Catholic Charities honors Rev. Gloria White-Hammond
---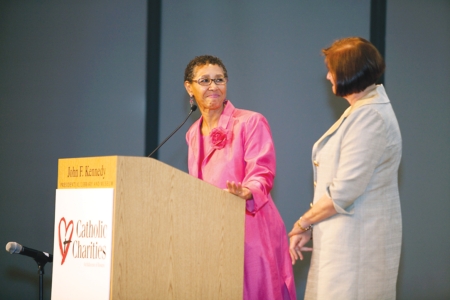 Rev. Gloria R. White-Hammond looks towards Catholic Charities President Deborah Kincade Rambo while addressing the audience after receiving the Justice and Compassion Award during Catholic Charities annual Spring Celebration at the John F. Kennedy Library and Museum in Boston May 17. Pilot photo/ Courtesy Suzanne Ouellette, Catholic Charities
Help us expand our reach! Please share this article
DORCHESTER -- The Catholic Charities Spring Celebration took on the theme of women on the frontline of the fight for social justice as it honored Rev. Gloria White-Hammond, the first woman to receive the organization's Justice and Compassion Award.

The annual fundraising event, held May 17 at the John F. Kennedy Library, was emceed by the Rev. Liz Walker.

"I am honored and humbled to be a part of this celebration with Catholic Charities this evening for many reasons. This is an amazing group of people, an amazing institution, and I am proud to co-chair with Mike Sheehan, because this year is the first year, as I understand, that you have honored a woman," Rev. Walker told the 350 attendees.

"My call to ministry is inextricably tied to Ray and Gloria, because God called them and they called me," Rev. Walker said.

The former Boston television news anchor became a minister in 2005, inspired by Rev. White-Hammond and her husband, Rev. Raymond A. Hammond, co-pastors at Bethel African Methodist Episcopal Church in Jamaica Plain.

Rev. White-Hammond built a creative writing and mentoring ministry called "Do the Write Thing" in 1994, to serve high-risk, young women at her Bethel AME Church. The ministry now helps girls in Boston public schools, juvenile detention facilities and at the church in Jamaica Plain.