TINE awards certificates to 115 graduates
---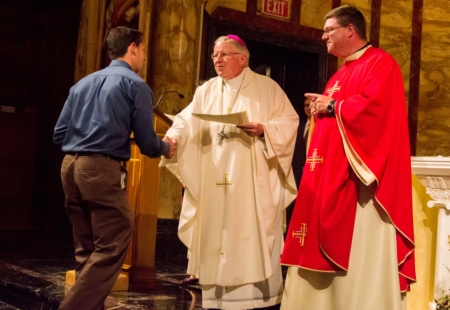 St. John's Seminary rector Bishop Arthur Kennedy and vice-rector and president of the Theological Institute for the New Evangelization (TINE) Father Christopher O'Connor present certificates to graduates of the program June 1. Pilot photo/Christopher S. Pineo
Help us expand our reach! Please share this article
BRIGHTON -- The Theological Institute for the New Evangelization at Saint John's Seminary held a commencement Mass on June 1 for 115 students, their largest class since the certificates programs began in 2009, and graduated the first group to receive an advanced certificate in apologetics.

President of TINE, and vice-rector of the seminary, Father Christopher O'Connor celebrated the Mass before the presentation of certificates.

Father O'Connor said the program owes its success to the work of David and Angela Franks, who Father O'Connor said work all hours to improve the certificate program.

"They and the Boston Police are the only ones that are up at 2:30 in the morning, and I know this because they are sending me emails," Father O'Connor told the gathering at the commencement.

Under the direction of the rector of St. John's Seminary Bishop Arthur L. Kennedy, David Franks, who is vice president for mission, and his wife, Angela Franks, who is the director of theology programs, created the program in 2009. Both have doctorates in theology.

"Bishop Kennedy commissioned us to think about how the seminary could build on the work of the Master of Arts in Ministry Program to reach even more people. He lead us and he inspired us to do this certificate program based on the catechism of the Catholic Church," David Franks said.