Cardinal ordains Boston NAC seminarian transitional deacon
---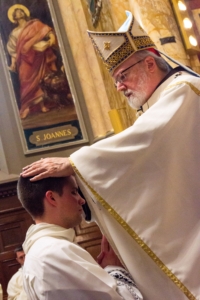 Cardinal Seán P. O'Malley lays his hands on Deacon Thomas K. Macdonald, ordaining him a transitional deacon. Deacon Macdonald, who is currently studying at the Pontifical North American College in Rome, was ordained June 30 in the chapel at St. John's Seminary in Brighton. Pilot photo/Christopher S. Pineo
Help us expand our reach! Please share this article
BRIGHTON -- Cardinal Seán P. O'Malley ordained Deacon Thomas K. Macdonald a transitional deacon on June 30 in the chapel at St. John's Seminary in Brighton.

The native of Westford, who earned a bachelor's degree in history and philosophy at the University of Massachusetts Amherst before entering St. John's Seminary and going on to study in Rome, said he was happy to be ordained to the diaconate back home in the Boston Archdiocese.

"It's great to be home. I study in Rome at the North American College, and it is so good to be ordained a deacon of the Archdiocese of Boston," he said.

Ordination as a transitional deacon comes as a seminarian is in the final stages of his theological studies and is the last major step toward ordination to the priesthood, which usually follows within a year. The first of three ranks of ordained ministry in the Church, deacons may baptize, preside at weddings and rites of Christian burial, assist a priest or bishop at Mass, proclaim the Gospel and deliver homilies.

Cardinal O'Malley said in his July 6 blog post that it was decided to hold the ordination in the summer to accommodate the candidate and his family. In Boston, transitional deacons are traditionally ordained at the Cathedral of the Holy Cross each year in January.