Choose Life license plates reach goal
---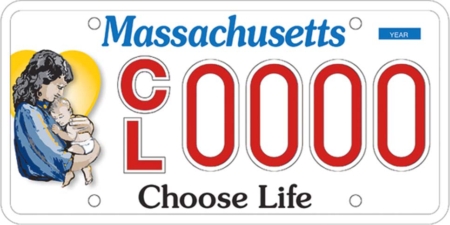 Courtesy graphic
Help us expand our reach! Please share this article
After a nine year journey, the Choose Life license plates reached their destination this summer. In August, the plates cruised past the goal of 3,000 on Massachusetts highways.

But Merry Nordeen, who championed the Choose Life license plates, does not have her eye on the rearview mirror. Her focus is on the road ahead. She and the Choose Life board members have nearly $100,000 to distribute to local crisis pregnancy centers.

That money had been saved up to replace the $100,000 bond, put up by an anonymous donor. The Massachusetts Registry of Motor Vehicles holds the bond until a total of 3,000 vanity plates are registered. Last month, the registry announced that Choose Life had 3,054 plates and that they would release the bond.

Over the past two years, the plates raised over $170,000, and 3,000 plates will bring in $60,000 annually.

In the past, Choose Life has funded Massachusetts Citizens for Life's Summer Academy for high school students and provided a matching grant for Boston's Walk to Aid Mothers and Children, previously held every October. The organization has also granted money to pregnancy resource centers and provided funds to their counselors and directors to attend training sessions.