Cardinal hosts town hall meeting on assisted suicide
---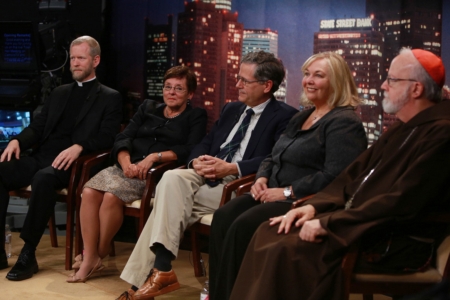 Panelists Father Tadeusz Pacholczyk, Janet Benestad, Dr. John Howland and M. C. Sullivan join Cardinal Seán P. O'Malley during the Virtual Town Hall Meeting on Preventing Assisted Suicide Oct. 3. Pilot photo/ George Martell, Pilot New Media
Help us expand our reach! Please share this article
WATERTOWN -- "Doc, how long have I got?" It is the question Dr. John Howland hates to be asked. Life expectancy is notoriously difficult to predict, and Dr. Howland is a family physician, not a soothsayer.

The doctor, who has practiced medicine for 30 years, said he once saw a patient who was so ill that he thought she would die within the day. Her care was transferred to another hospital.

"Two years later, she walked into my office, and I about fell over," he said. "I try to avoid trying to figure out when people are going to die. That's not my job. My job is to try to help care for people."

Dr. Howland spoke at the Virtual Town Hall Meeting on Preventing Assisted Suicide, broadcast live on the CatholicTV Network and WQOM 1060 AM on Oct. 3. CatholicTV has scheduled more than a dozen rebroadcasts.

The ballot initiative Question 2, "Prescribing Medication to End Life," will appear on the Nov. 6 ballot. The legislation would permit individuals who are given six months or fewer to live to receive life-ending drugs. If the majority of commonwealth voters support the measure, it will take effect in January.

Dr. Howland said terminally ill patients have the opportunity to communicate with their families. He called their final months "precious time that we all need."