---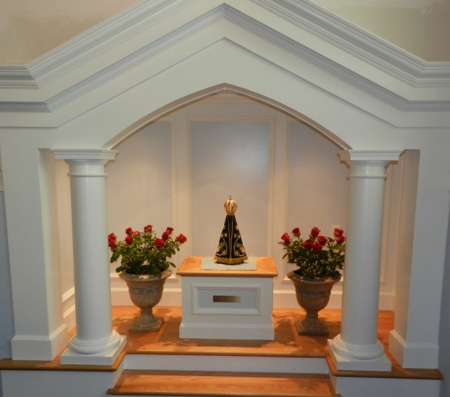 St. Mary Parish in North Plymouth honored Nossa Senhora Aparicida and dedicated a new grotto at the church Oct. 14. Pilot photo/courtesy St. Mary Parish in North Plymouth
Help us expand our reach! Please share this article
Madonna grotto dedicated in N. Plymouth

St. Mary Parish in North Plymouth hosted Brazilian communities of faith from around the Archdiocese Sunday, Oct. 14 at a celebration of Mass that honored Nossa Senhora Aparicida (Our Lady of Aparicida, Brazil) and dedicated a new grotto at the church.

Parishioner Geronimo Souza, a carpenter, built the grotto from an old confessional with help from his wife and two children.

Brazilians celebrate the Madonna's feast day on Oct. 12. Pope Pius XI proclaimed the Madonna "Queen and Principal Patroness of Brazil" in 1930, joining the Patron St. Peter of Alcantara.

"The Brazilian community of our parish deserves to have a permanent sign of their faith-filled presence in our parish and the combination of their fidelity in faith to Our Lady of Aparecida and the availability of a craftsman with the talent to accomplish the task led us to decide to build this beautiful grotto within the walls of our church," said Father Joseph T. MacCarthy, the pastor at St. Mary's.

Catholic Schools Foundation grants $430,000 to St. Joseph Prep

The Catholic Schools Foundation (CSF) earlier this month announced a grant to the new St. Joseph Preparatory School to total $430,000 for the 2012-2013 school year.

CSF said the organization will provide $180,000 of the funding for financial aid to new and current students, and $250,000 will go toward transition funding to support programming in the school's first year.