---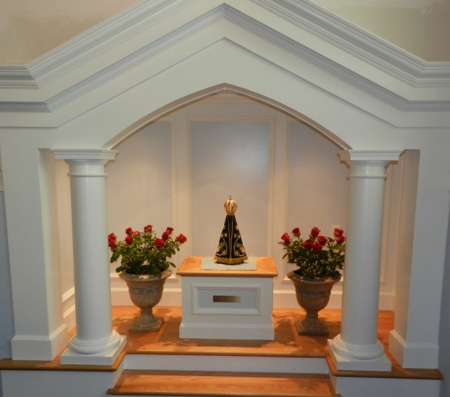 St. Mary Parish in North Plymouth honored Nossa Senhora Aparicida and dedicated a new grotto at the church Oct. 14. Pilot photo/courtesy St. Mary Parish in North Plymouth
Help us expand our reach! Please share this article
Madonna grotto dedicated in N. Plymouth

St. Mary Parish in North Plymouth hosted Brazilian communities of faith from around the Archdiocese Sunday, Oct. 14 at a celebration of Mass that honored Nossa Senhora Aparicida (Our Lady of Aparicida, Brazil) and dedicated a new grotto at the church.

Parishioner Geronimo Souza, a carpenter, built the grotto from an old confessional with help from his wife and two children.

Brazilians celebrate the Madonna's feast day on Oct. 12. Pope Pius XI proclaimed the Madonna "Queen and Principal Patroness of Brazil" in 1930, joining the Patron St. Peter of Alcantara.

"The Brazilian community of our parish deserves to have a permanent sign of their faith-filled presence in our parish and the combination of their fidelity in faith to Our Lady of Aparecida and the availability of a craftsman with the talent to accomplish the task led us to decide to build this beautiful grotto within the walls of our church," said Father Joseph T. MacCarthy, the pastor at St. Mary's.

Catholic Schools Foundation grants $430,000 to St. Joseph Prep

The Catholic Schools Foundation (CSF) earlier this month announced a grant to the new St. Joseph Preparatory School to total $430,000 for the 2012-2013 school year.

CSF said the organization will provide $180,000 of the funding for financial aid to new and current students, and $250,000 will go toward transition funding to support programming in the school's first year.

"Because of the support of the Catholic Schools Foundation, St. Joseph Preparatory High School is able to offer young women and men a school where they are called to excel and achieve, where they are known and loved," head of school Tom Nunan said.

Tournament raises $128,000 for ICSF

Golfers at the 11th Annual Back to School Cup Golf Tournament raised $128,000 for the Inner-City Scholarship Fund (ICSF), a signature program of the Catholic Schools Foundation (CSF), on Oct. 1 at Wollaston Golf Club.

ICSF distributes scholarships to "at-risk students" attending Catholic School in the Archdiocese of Boston.

"Last year we distributed approximately 5,000 scholarships to students. Nearly 13,000 students applied for our aid. Your support means that we will be able to help more and more students," CSF executive director Mike Reardon said.

School Sisters of Notre Dame attend General Chapter in Rome

Eight sisters from the Atlantic-Midwest Province of the School Sisters of Notre Dame joined delegates from around the world in Ariccia, Italy for their 23rd General Chapter from Sept. 19 through Oct. 24.

Sisters Catherine Arata, Kathleen Cornell, Paula Dukehart, Nancy Gilchriest, Mary Heather MacKinnon, Margaret McPhee, Patricia Murphy and Eileen Shea represented the Atlantic-Midwest Province at the chapter in Italy themed "Called and sent to witness to unity in a divided world."

The sisters said the chapter will give direction to the life and mission of the congregation for the future and to elect the general superior and the general councilors.

For more information on SSND or the 23rd General Chapter visit the international website at www.gerhardinger.org or the chapter site at www.ssndroma.org.

Sacred Heart School receives $100,000 gift

Edward Santos, president of the Plymouth Industrial Development Corporation (PIDC), recently presented Sacred Heart School in Kingston with a gift of $100,000 toward the establishment of the Sacred Heart School Endowment Fund.

School president Pamela Desmarais and finance director Sister Lydia Steele, C.D.P. accepted the gift on behalf of the school at the Plymouth Area Chamber of Commerce in Plymouth, the original site of Sacred Heart School when it opened in Plymouth in 1947.

"This gift is an investment in the future of Sacred Heart and enables our school to establish an endowment fund that will help provide tuition assistance to deserving students and their families. As Sacred Heart enters its 66th year educating young men and women of southeastern Massachusetts, we are honored by the commitment, confidence, and financial support demonstrated by our friends and benefactors," Desmarais said.

Notre Dame High School, Lawrence adds Cristo Rey to name, founder visits

Woburn cancer research company, ArQule, hosted a reception on Sept. 25 after a ceremony officially incorporated "Cristo Rey" into the title of Notre Dame High School in Lawrence.

ArQule provides Notre Dame Cristo Rey High School students with work-study jobs during their time at the school.

President of the school, now called Notre Dame Cristo Rey High School, Sister Mary Murphy joined Father John Foley, the founder of the national network of Cristo Rey high schools, at the reception.