When going gets tough, pro-lifers keep going
---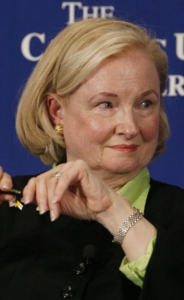 Professor Mary Ann Glendon is pictured in a 2009 file photo in Washington. CNS photo/Paul Haring
Help us expand our reach! Please share this article
RANDOLPH -- Despite some recent setbacks, the pro-life movement has gained ground in the place it matters most -- the hearts and minds of the American people, Mary Ann Glendon, professor of law at Harvard, told those gathered at Massachusetts Citizens for Life's (MCFL) annual fundraising banquet on Oct. 19.

The most recent polls show that an unmistakable (if slight) majority of Americans are pro-life and that the large majority, 75 percent, are opposed to abortions for 95 percent of the reasons they are performed, said Glendon, who served as the U.S. ambassador to the Vatican from 2008-2009.

This year's banquet, held at the Lantana in Randolph, marks the beginning of MCFL's 40th year. Glendon called the current pro-life challenges "more sinister" than founders of MCFL ever dreamed possible.

In Massachusetts, the biggest challenges are the possible legalization of physician assisted suicide and the destruction of human embryos for research, which receives state funding. In the case of both, advocates use the same rhetoric as pro-abortion lobbyists. They call for "choice" and "compassion," and they often highlight cases of unusual hardship, she said.