In Rome, Cardinal O'Malley focuses on 'what God's will is'
---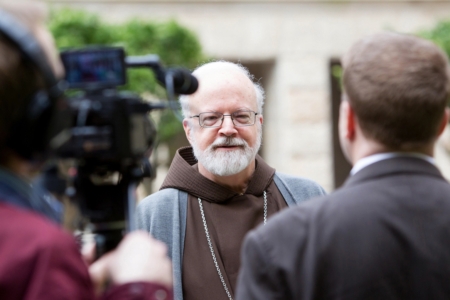 Cardinal Seán P. O'Malley speaks with Jay Fadden of the CatholicTV Network in the courtyard of the Pontifical North American College March 5, 2013. Pilot photo/Gregory L. Tracy
Help us expand our reach! Please share this article
ROME -- After witnessing the flight of Pope Emeritus Benedict XVI by helicopter out of St. Peter's Square earlier in the day, three American cardinals took questions from the media on Feb. 28.

"I think it was a note of sadness in saying farewell to this man who has been our spiritual father for the last eight years. At the same time, it was very edifying to see how much people love him and respect him. It was very moving to be in the plaza this afternoon and see thousands of people just waiting for the helicopter to take off," Cardinal Seán P. O'Malley, the Archbishop of Boston, said.

Cardinal O'Malley joined Cardinal Francis E. George Archbishop of Chicago and Cardinal Daniel N. Dinardo of Galveston-Houston in taking questions at a press conference at the Pontifical North American College in Rome.

Cardinal O'Malley spoke about his chance to speak with Pope Benedict XVI in the final hours of his papacy. The cardinal said he greeted the pope with a traditional Bavarian greeting, as he always had before.

"I told him how much the people in Boston are praying for him, that we love him, that we are so grateful for everything that he has meant to us. I assured him that he will never be forgotten. He will always be in our thoughts and prayer, that God will reward this man for the outstanding service that he has given to Christ and the Church," Cardinal O'Malley said.

One reporter asked what the cardinals would do at 8 p.m. that evening -- the very moment when the "sede vacante" began. Cardinal O'Malley responded that the most moving moments for him occurred earlier in the day.

"However, the question did make me think and as it turned out, at 8 p.m. we were watching television, witnessing the closing of the Apostolic Palace and we stopped and said a prayer for the Holy Father," Cardinal O'Malley reflected in his blog the next day.

Moving on, questions focused on the process of discerning the leadership of the Church. Cardinal O'Malley spoke about the importance of the conclave for him personally.

"This is the first time I have been at a conclave, and very well could be the only time in my life that I will do this. I consider it one of the most important activities that I will be engaged in as a priest and a cardinal," he said.

Cardinal O'Malley also spoke about how -- in addition to prayer -- the process of discernment has entailed continued learning regarding candidates for the papacy.

"As soon as the Holy Father made the announcement, I have been bringing this to prayer, asking the Holy Spirit's help to be able to discern what God's will is," he said.

Cardinal O'Malley said he had been reading "much about the other cardinals, using the internet a lot."

He also stressed the importance of personal interactions in a process that he said would also involve much prayer from him and the other cardinals.

"I think that the discussions that we will have in the congregations will be the most important intellectual preparation that we have, but certainly the spiritual preparation has already begun. Our people back home and throughout the world are all praying for this event, that we will be guided to be able to choose the very best person to lead the Church -- the one that God wants, not the one that would be good for me or anyone else, but the one that God wants to be our Holy Father," Cardinal O'Malley said.

The cardinals spoke about what they believe the American people hold as priorities regarding the election of the next pope.

"I don't know that I could identify a top priority, but they certainly -- our people -- want a holy man to be the pope. We have been very blessed in the last century to have extraordinarily learned and holy men as pope -- many of them have been beatified or canonized. I think our people have come to expect that, and he must be a man of deep faith as Benedict has been," Cardinal O'Malley said.

Cardinal O'Malley said communication skills take a high priority in consideration of candidates.

"Certainly in today's world the ability to communicate the faith is important. Our people are anxious to have someone who will be able to touch the hearts, particularly of our young people, and to carry on this new evangelization by inspiring people to come back to the faith, if they have stepped away from the practice of the faith," he said.

The cardinals also took a question regarding a recent Vatican report alleged to contain information on the Vatileaks scandal.

"Since we don't really know what is in the report, I think we will depend upon the cardinals of the congregation to share with us what they think would be valuable for us to know to be able to make the right decision for the future of the Church," Cardinal O'Malley said.

Questions then focused on a speech earlier in the day by Pope Benedict XVI, in which he mentioned that "the Church always has to be transforming itself while remaining with its core commitment to Christ" as one reporter paraphrased.

"I think the Holy Father was referring to an internal transformation. I remember one of his talks he gave, I think a year ago, where he quoted Mother Teresa, where he said someone approached her and said, 'What are the two most important things to change in the Church,' and she said, 'You and me.' I think that is what the Holy Father is talking about, our own personal conversion," Cardinal O'Malley said.

Other cardinals at the press conference confirmed that they interpreted the remarks by the pope emeritus as a reflection on personal conversion.

"The apostolic faith remains, at its core as you said, what has been revealed by God. We are not free to change that. The theological warrants about what has been revealed and what hasn't can develop, and so we have to move in a way that makes us intellectually critical, even of the faith itself. God who gives us a great gift in the faith, also gives us the gift of intelligence, and so Catholicism has always been about faith, reason and discussion -- using the principles of reason in order to explain the faith," Cardinal George said.

Cardinals took on the question of whether or not they will go into the conclave with a particular candidate in mind, or if any new names had recently come up.

"I presume the general congregation is hoping to hear from various people from various parts of the world. To my mind, it's going to be illuminating for me. So that though you may have somebody in mind, at the same time, every day that I have been here some other name has popped up," Cardinal DiNardo said.

A reporter interjected and asked for one of those names.

"Cardinal O'Malley," Cardinal DiNardo replied.

Cardinal O'Malley commented on the candidates in discussion.

"I have to say I am comforted by the fact that there are obvious candidates who would be competent popes. You are faced with a number of choices, but I don't think any of us have gone in saying, 'This is who I would vote for.' We are still in a process of discernment, and prayer, and trying to learn more, but certainly there are some wonderful candidates there. We all recognize their talent, and their goodness, and their competence," Cardinal O'Malley said.

The cardinals also spoke about how the decision of the pope emeritus to retire could impact the next papacy.

"Certainly it is a whole new ball game after this resignation, but it is very difficult to forecast how it will play itself out. People are living longer, and we know that means that they have diminished energy, and the task of being pope of the Church is an extraordinarily demanding job. So, it could result in the conclave choosing a younger man, but they may say, 'Well, we can choose an older man because if he gets sick, or is unable to do it, he will be able to resign.' So, it's very difficult to forecast," Cardinal O'Malley said.

Gregory L. Tracy contributed to this story from Rome.