Holy Spirit Institute offers ongoing formation for prayer group leaders
---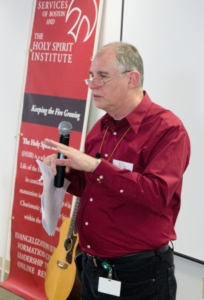 Vincent Cerasuolo, associate director of Charismatic Renewal Services leads a class of the Holy Spirit Institute of Boston March 16. Pilot photo/ Christopher S. Pineo
Help us expand our reach! Please share this article
BRAINTREE -- The Archdiocese of Boston's Charismatic Renewal Office is now offering courses to help Catholics form prayer groups to promote a mature understanding of the Catholic faith rooted in the Holy Spirit.

The Charismatic Renewal Office in the Faith Formation and Evangelization Secretariat said they created the Holy Spirit Institute of Boston (HSIB) to offer a program of ongoing formation for prayer group leaders, give students a greater understanding of their spiritual calling, and train them to be more effective servants of the Church.

Vincent Cerasuolo, associate director of Charismatic Renewal Services (CRS), said, "Its focus is to help leaders understand their role in supporting the gifts and the movement of the Spirit in the community, and in particular in a prayer meeting. The other part of the course is focused on how to start new prayer groups."

Cerasuolo said the principles of the course apply to building Catholic communities rooted in prayer, not exclusively charismatic communities.

"One of the things we have really tried to do is to not create our own school for formation that is our version of what the Church is doing. Instead we have tried to focus on the specific call to the charismatic spirituality," he said.

He said the institute hopes to complement other existing educational resources in the archdiocese -- such as the Theological Institute for the New Evangelization and the Master of Arts in Ministry program at St. John's Seminary in Brighton -- while providing a resource for those who want to learn about starting, leading and maintaining prayer groups or following a charismatic calling.

"We want to add our dimension in our institution to help the people who have been called into this charismatic way of life to understand how to live out their roles and be faithful to what the Church is teaching," Cerasuolo said.

The first HSIB course, "Keeping the Fire Growing Among Leaders," met at the Pastoral Center in Braintree during the fall of 2012. Students filled the course to capacity with 32 students and generated a waiting list for its next offering.

A second course began in the spring semester 2013. Focused on "Keeping the Fire Growing in Prayer Groups," the course registered 17 students and HSIB said they expected a full roster of students at its start.

The Pilot sat in on one of the classes March 16.

Cerasuolo lead the class that day, which focused on leading a prayer group in a way that maintains a focus on prayer while reaching newcomers and existing members during each meeting.

"The whole focus of the prayer meeting is evangelization," he said.

He said evangelization in a prayer group requires communication within the group and a flow at each prayer meeting which acknowledges each member.

Cerasuolo said HSIB came about under inspiration from public statements by Blessed Pope John Paul II and Pope Benedict XVI.

Cerasuolo said Cardinal Seán P. O'Malley endorsed a stronger connection between charismatic prayer groups and the archdiocese in 2008.

"Once people come into the Church, once they are evangelized into Christ and into the Catholic faith, they need to grow in that faith. What we try to do is provide a path into the Church for people who are perhaps encountering it for the first time, have fallen away, or have lost their identity. We help them to grow in their faith and experience it as a call on their lives so that when they become involved in the Church, they become active and their faith is not just an intellectual faith, but it is an involved faith," Cerasuolo said.

Within that context Cerasuolo said HSIB hopes to promote a mature faith experience by generating understanding of the traditions of the Church.

Janet Benestad, secretary for Faith Formation and Evangelization, confirmed the place of CRS teaching efforts in the archdiocese.

"It's grounded in good, solid Catholic teaching," she said.

Ann Medinus, 57, a member of a prayer group at St. Anthony Shrine in Boston, was one of those in attendance at the March 16 class. Medinus is a native of Nigeria who moved to the United States in 1980.

"So many events in my life have really shaken my faith, but after our first session I felt stronger and bolder," she said.

She said the leadership skills discussed in the class inspired her.

"I realized this is something I want to pursue," she said.