Father Albert Sylvia becomes senior priest
---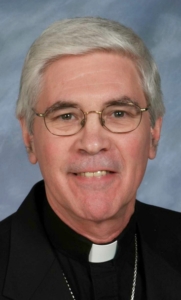 Father Albert Sylvia Pilot file photo
Help us expand our reach! Please share this article
In his 47 years as a priest for the Archdiocese of Boston, Father Albert A. Sylvia sought to live up to the standard set for the ministry by a parish priest who became a saint.

"How great is a priest? The priest will not understand the greatness of his office till he is in heaven. If he understood it on earth, he would die, not of fear but of love," St. John Vianney, the patron of parish priests, said.

Father Sylvia said he contemplated those words since his ordination at the Cathedral of the Holy Cross by Cardinal Richard J. Cushing on May 26, 1966.

"That was St. John Vianney's way of expressing the grace of the sacramental priesthood, which he is the patron of, which I have taken as my focus in the ministry in the sacramental priesthood throughout these years," he said.

Born June 21, 1940 in Philadelphia, Father Sylvia grew up with one sibling. He moved with his parents to Massachusetts at the age of three, before the family settled in Winthrop in 1952.

His family became parishioners at St. John the Evangelist Parish, and he attended parochial school.

Before he entered St. John's Seminary in Brighton in 1958, he spent his high school years at Immaculate Conception School in Revere -- when the facility had a high school until 1973.

"The Catholic school experience was, I feel, informative and very helpful in focusing me throughout for the priesthood," he said.

After his ordination he served the archdiocese at St. Joseph Parish in Pepperell, before taking up ministry in Peru with the Society of St. James in 1973.

During that time he learned to speak Spanish, and later returned to the archdiocese to serve in the Greater Lynn Spanish Apostolate -- which included parishes in Lynn and Salem.

"I felt that was a privilege and a blessing that I felt I had, and was able to serve in that way to be able share the ministry of the sacramental priesthood for the Church of Latin America," he said.

In 1984 he served as parochial vicar at St. Rose of Lima in Chelsea, and then Blessed Sacrament in Jamaica Plain.

In 1991 he again traveled overseas, this time to Lisbon, Portugal to study Portuguese for ministry in the Archdiocese of Boston.

"I was asked if I would be interested in working with the new peoples of the Portuguese community. Being Portuguese myself with my parents and my heritage being Portuguese -- my grandparents were immigrants from the Azores -- I felt there was a drawing to being able to work with the Portuguese people," he said.

Upon his return he became a pastor, and served at Sts. Peter and Paul Parish in Lawrence from 1991-2003.

After serving as pastor of Our Lady of Fatima in Peabody until 2008, he took up a new ministry teaching at Blessed John XXIII National Seminary in Weston.

As a spiritual director at the seminary, he again looked to St. John Vianney, to help him to guide as well as to serve those under his tutelage.

"I was able to interpret that as being a pastor, a pastor to future pastors, a pastor in the search for direction," he said.

After his retirement on June 30, 2013, he said he plans to rent a place to live for a year and discern a plan for the future.

"All these changes and movements I saw and interpret as a way of imitating Jesus as pastor," he said.