Hull parish celebrates Assumption with nautical procession
---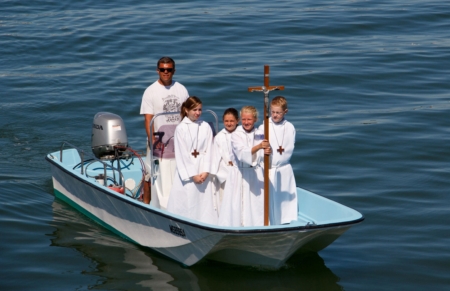 Altar servers from St. Mary of the Assumption at St. Ann Church in Hull, approach the A Street Pier in Hull, Aug. 11. The servers led a procession celebrating the Feast of the Assumption of Mary that began with the statue of the Blessed Mother arriving by boat and then being carried through the streets to the church. Pilot photo/Christopher S. Pineo
Help us expand our reach! Please share this article
HULL -- While many parishes and Catholic communities mark their parish feast with a procession, a Hull parish continued a three year tradition of celebrating the Feast of the Assumption of the Blessed Virgin Mary with a procession that is different from most.

At the annual St. Mary of the Assumption Festival, Aug. 11, a decorated statue of the Virgin Mary arrived by boat with the pastor of St. Mary of the Assumption Parish at St. Ann Church Father Joseph M. Mazzone, Deacon Charles E. Sullivan and Deacon James C. Theriault at the A Street Pier in Hull. Altar servers bearing the crucifix arrived on the first boat in the procession, before hundreds joined on foot headed toward St. Ann Church for Mass.

The parish celebrated the Aug. 15 feast on the previous Sunday to allow time for the procession and festivities. More than 400 people packed into the pews at St. Ann Church after the land-and-sea procession honoring the Blessed Mother.

"I was praying, since the first year we have done it. I said, 'Please Jesus let there be more people on the dock then there are in the boat.' And there were -- there were hundreds," Father Mazzone said, as he began his homily.

Father Mazzone said the Mass and the procession drew more people from the community than it had in previous years. He thanked the guests who turned out in addition to regular parishioners during his homily.

"I think this might be the biggest year, so thank you so much. I love you. Don't get big heads, but I love you," he said.

After the Mass, the parish welcomed guests for a feast under tents set up on the parish grounds.

During his homily, Father Mazzone told a story about getting caught sneaking deserts at a wedding reception he was invited to before he entered seminary. He also used the story as a segue to invite guests to the feast after the Mass.

"The reception was held at the house of a friend. They had a beautiful house with a big sloping lawn in the back. They set up big tents, just like we have here, and all of the food was homemade just like we are going to have here, afterwards -- everything homemade," he said.

His story centered on himself antagonizing the host by sneaking into the room where the deserts were and getting caught not once, but three times.

"Wouldn't it be great if we constantly got caught in the act of doing something good? We weren't doing it for attention, we were actually being quiet about our good deed, and somebody found out. Better that," Father Mazzone said.