Blessed John XXIII Seminary to host Lawn Party Sept. 25
---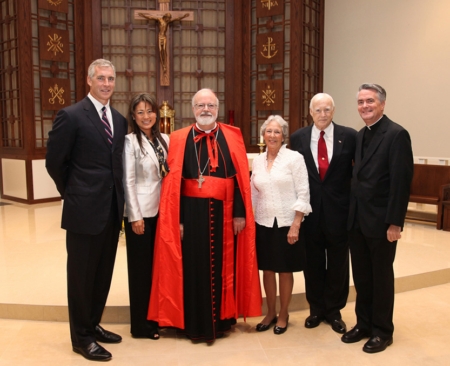 Lawn Party Chairs Scott and Mia Gieselman, Cardinal Seán O'Malley, Janet and John Gieselman, and seminary rector Father William B. Palardy are pictured in the chapel of Blessed John XXIII National Seminary. The seminary will hold its annual Lawn Party gala Sept. 25. Photo courtesy/Blessed John XXIII National Seminary
Help us expand our reach! Please share this article
Long before he starred for Boston College and played for his hometown New England Patriots in the 1980s, Scott Gieselman fondly remembers one of his first playing fields: the grounds of Blessed John XXIII National Seminary in Weston.

"I remember being there almost every Sunday for Mass, and running down the hallways, and Dad (John) and I tossing the football around and playing on the grounds when I was 3 years old," Gieselman said. "As I got older, with my mother (Janet) working there, whenever we went there, for Mass or other special events, it was like going home."

To say that the Catholic faith, spirit and friendly warmth of Blessed John XXIII Seminary are in his blood would be an understatement. Scott Gieselman and wife Mia, of Weston, will co-chair the seminary's 32nd annual Lawn Party gala and dinner on Wednesday, Sept. 25 at 6 p.m. under the tent. The seminary was founded by Cardinal Richard Cushing in 1964 and will celebrate its 50th Anniversary in 2014.

The Lawn Party is the seminary's premier fundraising event, which assists men called to their second-career vocation from approximately 40 dioceses in the United States. Blessed John XXIII is the nation's only second-career seminary (age 30-and-up) for the diocesan priesthood run by diocesan priests. Sixteen of the 60 men in formation this year call New England dioceses home, with seven from the Archdiocese of Boston, including five members of the ordination class of 2014.

The evening's host, Cardinal Seán P. O'Malley, and the seminary's chairman of the board of trustees, will be joined by many New England bishops, priests, seminary alums and friends.

The Gieselmans expressed great pride in being selected to co-chair the Lawn Party for the second consecutive year. It is their way, Scott Gieselman said, of helping to "give back" to the Church and the seminary for all that it has provided for the past half-century.

The Gieselmans have been a part of the seminary family in various capacities since 1969.

"In our very complicated world, filled with distractions and time constraints, it is a special night to celebrate, appreciate and focus on the things that mean the most to us," Scott Gieselman said.

"Thanks to so many, differences are being made every day and every year by priests who are products of Blessed John XXIII Seminary throughout this region and across our country. To hear the stories of their journey and their life experiences each year at the Lawn Party is truly inspirational, and for us to have been a part of the seminary family for so many years, it is very, very special," he added.

For information or tickets to annual Lawn Party gala, contact Kate Folan at 781-899-5500.