Jesuit community hosts Novena of Grace, March 4-12
---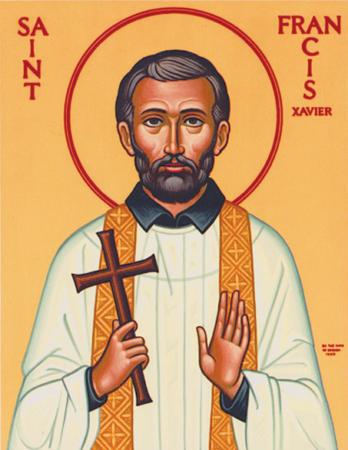 Help us expand our reach! Please share this article
Young Jesuit theologians from Boston College in their final years of preparation for the priesthood and the Faber Jesuit Community will sponsor the Novena of Grace of St. Francis Xavier at three parishes in the area of Boston College from March 4-12.

For over 30 years, Jesuit scholastics have led the Novena of Grace in parishes in Somerville. This year, the decision was made to move the novena to parishes in Brighton, Chestnut Hill, and Brookline "in an effort to keep the novena vibrant and attract a new generation of devotees," they said.

While the practice of hosting the novena in the archdiocese dates back only a few decades, it has been faithfully observed by Jesuits communities around the world for nearly 400 years.

According to tradition, Father Marcelo Mastrilli from Naples was preparing to leave for the missions in Japan in 1633, a time of great persecution of the Christians there. Before he departed, Father Mastrilli organized a festival to honor Our Lady of the Immaculate Conception at the College of Naples. Following the feast, as workers were disassembling the structures from the festival, a large object fell and hit Father Mastrilli on the head.

As he lay on the ground almost at the point of death, Father Mastrilli said St. Francis Xavier appeared to him, asked him to renew his vow to go to Japan and promised him: "All those who implore my help daily for nine consecutive days, from the 4th to the 12th of March inclusive and worthily receive the Sacraments of Penance and the Holy Eucharist on one of the nine days, will experience my protection and may hope with entire assurance to obtain from God any grace they ask for the good of their souls and the glory of God."

Tradition says he rose completely healed and went on to spread the news of his cure and the promises of the saint. In the intervening centuries, many graces have been attributed to praying of the novena for the intercession of St. Francis Xavier.

All services for the novena begin at 7:15 p.m. at the church listed below. On many evenings confession will be available and the rosary will be included.

-- Tuesday, March 4, St. Columbkille, Brighton

-- Wednesday, March 5, St. Ignatius, Chestnut Hill (Includes Mass and distribution of ashes)

-- Thursday, March 6, St. Mary of the Assumption, Brookline

-- Friday, March 7, St. Columbkille

-- Saturday, March 8, St. Ignatius

-- Sunday, March 9, St. Mary of the Assumption (includes Mass)

-- Monday, March 10, St. Columbkille

-- Tuesday, March 11, St. Ignatius

-- Wednesday, March 12, St. Mary of the Assumption

For more information on the novena, contact Tom Olson, S.J. at 774-364-0567 or tmajorsolson@gmail.com.