Catholic Charities Spring Celebration raises more than $1.2 million
---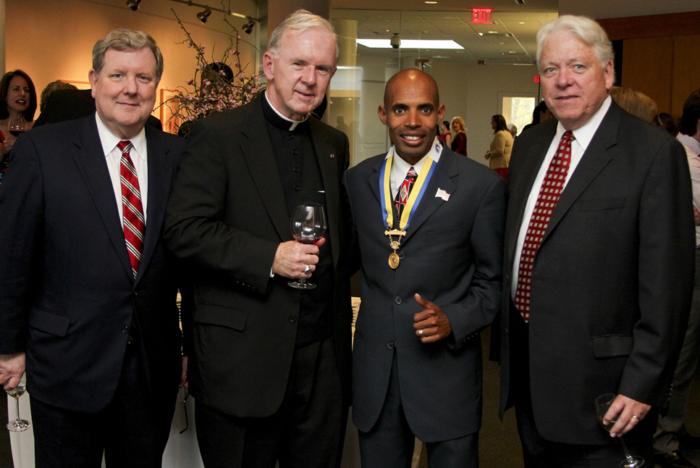 Boston Marathon Men's Winner Meb Keflezighi poses for a photo with Catholic Charities Board Chair Jim Gallagher, left; Father Milton E. Jordan of St. Matthias in Marlborough; Boston Marathon Men's Winner Meb Keflezighi and Justice and Compassion Award Recipient John Drew are pictured during Catholic Charities Spring Celebration at the JFK Library and Museum. Pilot photo/courtesy Suzanne Ouellette, Catholic Charities
Help us expand our reach! Please share this article
BOSTON -- More than 400 guests gathered to support the work of Catholic Charities of the Archdiocese of Boston at the organization's annual Spring Celebration held May 15 at the John F. Kennedy Presidential Library and Museum. The event raised more than $1.2 million to fund the agency's programs and services that support more than 200,000 people in need throughout Eastern Massachusetts.

Mike Sheehan, CEO of The Boston Globe served as master of ceremonies and Cardinal Seán P. O'Malley offered opening remarks at the event.

The evening's keynote address was delivered by this year's Boston Marathon winner Mebrahtom "Meb" Keflezighi. Keflezighi, an Eritrean-born long distance runner, came to the U.S. in 1987 and became an American citizen in 1998. In his remarks, he spoke about the personal challenges of being an immigrant, as well as the life-changing support that he received from Catholic Charities.

"I have never taken for granted my U.S. Citizenship. Every day I work hard both personally and professionally to make my family and country proud of who I am and proud of my contributions to this great country. Just as in a marathon, a great support team is needed for any individual to succeed. I'm thankful for all those who have supported me and my family all along the way and thankful that we in return can offer support to others who want to embrace all of the opportunities this country has to offer," said Keflezighi.

At the event, Catholic Charities honored John Drew with the "2014 Justice and Compassion Award" for his extensive philanthropic contributions, social impact on the community and commitment to Boston residents. Drew is the founder and president of Drew Company and a pioneer in the revitalization of the South Boston Seaport District.

"Our organization is so fortunate to have donors who recognize the growing population of those in need and the impact that our services and programs can have on their wellbeing, said Deborah Kincade Rambo, president of Catholic Charities.

"This year was particularly special in that we were delighted to have Meb Keflezighi, who came to the United States with his family as a refugee from their war-torn country, speak about the impact that organizations like Catholic Charities had on his life by helping him become integrated in the community and achieve remarkable success. We were also thrilled to honor John Drew, who truly exemplifies Catholic Charities' mission of building a just and compassionate society rooted in the dignity of all people."

The evening also featured blessings from Father J. Bryan Hehir as well as remarks from Jim Gallagher, executive vice president, general counsel and chief administrative officer of John Hancock Financial Services, and chair of the Catholic Charities Board of Trustees.

The event co-chairs were Joe Baerlein, president of Rasky Baerlein Strategic Communications and John Remondi, executive vice president at Fidelity Investments.