Cardinal, Metropolitan issue joint statement on Holy Land visit
---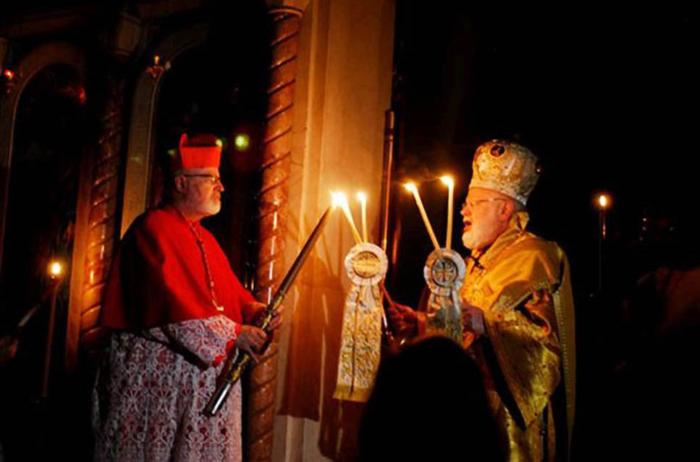 Cardinal O'Malley joins Metropolitan Methodios at the Cathedral of the Annunciation for the Greek Orthodox celebration of the Easter Vigil April 19. Pilot photo/courtesy Alexander Mavradis
Help us expand our reach! Please share this article
BRAINTREE -- Cardinal Seán P. O'Malley and Greek Orthodox Metropolitan Methodios of Boston issued a rare joint letter to their respective clergy and faithful on the upcoming meeting of Pope Francis and Ecumenical Patriarch Bartholomew of Constantinople, May 24-26, during the pope's first visit as Bishop of Rome to the Holy Land.

The Vatican has said the main purpose of the trip for the pope is to meet in Jerusalem with Ecumenical Patriarch Bartholomew, considered first among equals by Orthodox bishops. Pope Francis and Patriarch Bartholomew are scheduled meet four times during the pope's three-day visit.

The letter expressed support for the meeting in the Holy Land and a mutual respect for the goal of Christian unity, while pointing out examples from Boston of ecumenism between the two churches.

"The flourishing relationship between clergy and laity of the Archdiocese of Boston and the Greek Orthodox Metropolis of Boston has contributed to the process of reunion. As clergy and laity, we have prayed together, undertaken pilgrimages to Rome and Constantinople and have addressed critical issues facing our society. The brotherhood which has grown here is a treasured gift from above," said the letter, signed Cardinal Seán Patrick O'Malley and Metropolitan Methodios of Boston.

Associate director of Ecumenical Affairs for the Archdiocese of Boston Vito Nicastro, in a statement to The Pilot, said issuing of a joint letter between the Catholic archbishop and the Greek Orthodox metropolitan of Boston has happened only a "handful of times", but in this case reflected the committed support of the cardinal and the metropolitan for the outreach between the pope and the patriarch.

"The upcoming historic meeting Sunday, May 25 will continue that journey toward unity by building on one of its most important milestones, the encounter of Ecumenical Patriarch Athenagoras and Pope Paul VI on the Mount of Olives 50 years ago," Nicastro said.

Their private meeting May 25 will mark the 50th anniversary of the encounter in Jerusalem between Pope Paul VI and Ecumenical Patriarch Athenagoras of Constantinople, which opened the modern period of ecumenical dialogue in 1964.

"That was the first meeting of the leaders of Eastern and Western Christianity in five hundred years, and it began a new era of fidelity to Jesus' prayer that his followers would "be one," Nicastro said.

The official logo for the papal visit is an icon of the Apostles Peter and Andrew, patron saints of the churches of Rome and Constantinople, joined in a fraternal embrace.

"The Pope and Patriarch are the successors of the brothers of Galilee, Peter and Andrew. The Pope is successor of Peter, and the Ecumenical Patriarchate is the See of St. Andrew. Both are committed to be witnesses to the faith, as their predecessors were -- and brothers as they were too," said Nicastro.

"The Catholic and Orthodox 'Sister Churches' throughout the world are working and praying to regain the full unity they had for the first thousand years of their existence," Nicastro said.