Bishop Edyvean retires as auxiliary bishop
---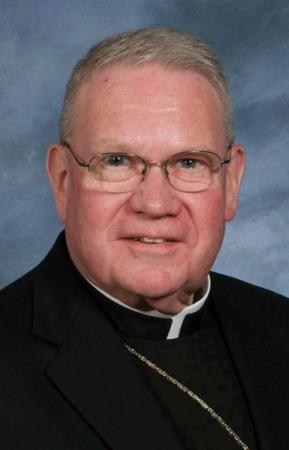 Bishop Walter James Edyvean Pilot file photo
Help us expand our reach! Please share this article
On June 29 Pope Francis accepted the resignation as auxiliary of the archdiocese offered last October by Bishop Walter J. Edyvean. The date of the announcement, the solemnity of Sts. Peter and Paul was also the thirteenth anniversary of the announcement of then Msgr. Edyvean's selection as titular bishop of Aeliae and auxiliary of the archdiocese.

A Medford native where he was born on Oct. 18, 1939 -- the only child of the late Walter and Frances (Marion) Edyvean. He is a son of St. Joseph Parish -- home parish also of former auxiliary Bishop Francis X. Irwin -- he attended local public schools and was graduated from the city's high school in 1956. He was granted an A.B. degree in English from Boston College in 1960 and the following fall was enrolled at St. John Seminary in Brighton.

In the fall of 1961 he was continuing his studies at Rome's Pontifical Gregorian University while residing at the Pontifical North American College on the Eternal City's Janiculum Hill. Ordained in the Eternal City on Dec. 16, 1964 the same day as other Bostonians Roxbury's Father Walter Waldron and Rockville Centre's Bishop William F. Murphy, he returned to the archdiocese as an assistant at St. Joseph Parish in Ipswich. Seminarians recall that he would not infrequently refer to the parish assignment with great affection. While at Ipswich from 1965 to 1968, he also lectured in Church History at Emmanuel College, Boston.

He returned to Rome and the Gregorian in the fall of 1968, now living at Casa Santa Maria, the house for American priests who were graduate students at Roman universities. In 1972 he received his S.T.D. -- doctorate in sacred theology -- and returned to the archdiocese now as a member of the faculty of the major seminary. Initially assigned to teach dogmatic theology, he later was the ordinary professor of sacramental theology.

For almost two decades he taught at St. John, Brighton; as professor of sacramental theology he taught Baptism and Confirmation. He commented annually that he would not spend much time on confirmation, ''Since most of you will not be celebrating that sacrament'' ... pace Bishops Lennon, Hennessey and Uglietto, and as many former students joked when he arrived to celebrate confirmation in their parishes -- pace, himself!

A full semester course on the Eucharist, revealed his deep faith and love for Christ in the Eucharist and his strong desire for his students to share that.

In 1990, he found himself returning, again to Rome this time to the staff of the Congregation of Catholic Education in the section dealing with Catholic Colleges and Universities. He loves Rome, so it was not that difficult for him to return there and serve for the next decade.

Pope St. John Paul II named him and his one time student, Msgr. Richard G. Lennon as auxiliary bishops of the archdiocese on June 29, 2001. The former "teacher-student episcopal twins" were ordained bishops at Holy Cross Cathedral on Sept. 14, 2001.

During his service as auxiliary bishop, Bishop Edyvean has served as vicar general of the archdiocese both for Barnard Cardinal Law and for Bishop Lennon while he served at apostolic administrator of the archdiocese (2002-2003). When Archbishop O'Malley was installed he named Bishop Edyvean as Regional Bishop of the West Region where he has served since.

Bishop Edyvean is a quiet man, though he has a wonderful if very dry sense of humor. He is also quite good at remembering people's names; as well as being very attentive to the lives and ministries of the priests of the archdiocese.

When named bishop in 2001 he chose as his motto a line from the Rule of St. Benedict -- Christo nihil praeponere -- prefer nothing to Christ. Always appreciative of the Benedictine silence and contemplation, in that environ he finds personal spiritual strength. Another interest of the bishop's has been the teaching of soon to be Blessed Paul VI; his former students could not help recalling that he was a "fan" of the late pope appreciating his profound love of the Church and his extraordinary kindness, two qualities (among others) evident in Bishop Edyvean.

Just about a week after Bishop Edyvean's retirement was announced that of his classmate and long time friend Fall River's Bishop George W. Coleman was also announced. Prayerful best wishes and thanks to both bishops for their respective service -- may they have health to enjoy their "senior years."

As announced in the March 7 issue of The Pilot, Father Brian R. Kiely former pastor of St. Patrick Parish in Natick will succeed Bishop Edyvean in the West Region serving as Episcopal Vicar of the region. The effective date for Father Kiely's new assignment was June 29, 2014.