'Imagine Iraq without Christians. It's nothing,' says local Syriac Catholic
---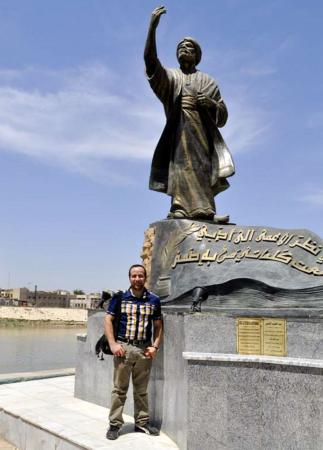 Sermed Ashkouri, an Iraqi Christian who is a member of Our Lady of Mesopotamia Syriac Catholic Mission in Newton is pictured during a trip to his native Baghdad in 2013. Pilot photo/courtesy Sermed Ashkouri
Help us expand our reach! Please share this article
BRAINTREE -- One Iraqi Christian living in the Boston area said the faith flourishes in times of suffering, such as in recent weeks as he saw friends, family and members of his own Syriac Catholic community driven from their ancestral home in the northern Iraqi city of Mosul.

"We as Christians, we get stronger when there is crucifixion, when there is sacrifice," said Sermed Ashkouri, 37, who lives in New Hampshire and is a member of Our Lady of Mesopotamia Syriac Catholic Mission in Newton.

The last Christians of Mosul fled an attack in July by a group calling itself the Islamic State in Iraq and Syria. Christians had previously lived there since the earliest days of Christianity.

"Imagine Iraq without Christians. It's nothing. Even the Muslim people say that," he said.

Ashkouri came to the United States in 1991 because United Nations sanctions made life difficult in his native Baghdad. He travelled to Iraq multiple times throughout the war and afterward. He said the people of Iraq he grew up with understand the historical role of Christians in Iraq, and regard their potential exodus from the country as a tragedy.

He confirmed that his family members living in Mosul had escaped to the city of Erbil in the Kurdistan Region of Iraq.

At the Catholic mission he attends, founded in 2009, expatriates from Iraq come to Mary Immaculate of Lourdes Church for Mass in Arabic and Syriac. Interacting with the people he attends Mass with, Ashkouri keeps up on the situation back home.

He said a similar spike in violence against Christians there happened between 2003 and 2007.

"Many, many families lost their daughters, lost their sons, because of what happened," he said.

He saw results of violence in Iraq firsthand when he visited a Catholic church in 2011 in his hometown -- Our Lady of Salvation Church in Baghdad.

"I cried when I went there. There were bullet holes everywhere," he said.

He explained that the church had been built to resemble a ship and said natives of the city -- both Muslims and Christians -- used it as a point of reference when giving directions around in the city. He described what he knew about an attack on the church in 2010, and shared his thoughts and photos of his later visit to the church where the priest who baptized him resided at the time of the attack.

"There were two suicide bombers that exploded themselves. Their body parts were embedded into the wall. You couldn't take it out. They tried to take it out, they couldn't. I saw it myself after eight months," Ashkouri said.

He said the world outside of Iraq seems to hold a very different idea about the country than its native Christians or Muslims. He said foreigners he interacted with over the years saw it as an entirely Muslim country in an entirely Muslim region.

"They never lived in there. I meet people from Libya or Saudi Arabia and they tell me, here in the United States, they don't believe I am Christian. They don't believe Christianity existed in Iraq," he said.

He cited the example of foreign reporters whom he met while visiting Iraq. He said the first question they would ask is which branch of Islam he followed, as if there was no other choice.

"First question they ask is, 'Are you Sunni or Shia?,'" he said.

He said Muslims from elsewhere in the region shared that misunderstanding.

"Muslims or extremists who come in from the south -- the Gulf -- or the west have no idea about Christianity," he said.

Ashkouri said the misunderstanding of the Syriac Catholics of Iraq followed him here to the U.S., where he said some members of other Christian denominations insisted his identity as a Catholic somehow rendered him not Christian.

"They told me, no, you're not Christian. You are Catholic. Your Jesus is different from my Jesus," Ashkouri said.

He said the characterization angered him, but he urged Catholics, other Christians, and the people of Boston and the U.S. to try to better understand the situation in Iraq, especially the plight of Christian refugees fleeing their homelands.

"In terms of Christians, they have been pretty much crucified," he said.

Professor Franck Salameh, an expert on Near Eastern studies at Boston College, said Christians of the Middle East endured unequal treatment at the hands of Muslim invaders historically and at the hands of Western media largely ignoring their plight in modern times.

"There is clearly a prevailing hierarchy in the media's treatment of Middle East violence. Some Middle Eastern victims get airtime, on prime-time, all the time. Others simply don't. Near Eastern Christians are not a top priority," he said.

"They are 'too Christian' in a world plagued by political correctness, cultural relativism, and false conceptions of the Middle East as a homogenous Arab and Muslim preserve," he said.

He said attributing the suffering of Christians in the region exclusively to current events misses the mark of truth.

"It gives comfort to post-religious Western societies to attribute the plight of Near Eastern Christians to war, worsening economic conditions, better opportunities in the West etc., but the fact remains that Islam and its treatment of non-Muslims in its midst bears the lion's share of the onus for the disappearing indigenous Christians of the Near East," he said.

He confirmed that Christians in places like Iraq have been part of the history of the lands they inhabit before Islam came into dominance anywhere in the region.

"Why, Middle Eastern Christians are the 'native Americans' of the Middle East; the indigenous peoples of the Middle East; the original inhabitants of places like Iraq, Syria, Lebanon, Egypt and the rest -- long before an Arab or a Muslim had ever set foot on the stage of Middle Eastern history. The Christians of Iraq, Syria, Lebanon and the rest were the ones who were there first," Salameh said.