Pro-life vigil not affected by new buffer zone law
---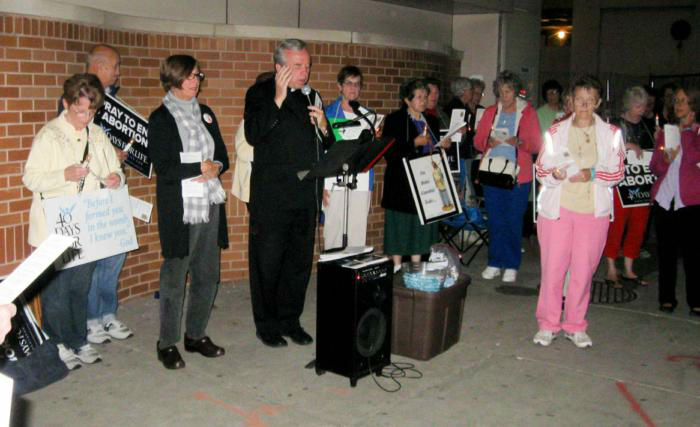 Father Mike McNamara leads participants in prayer at the 40 Days for Life vigil outside the Planned Parenthood clinic in Boston Sept. 26. Pilot photo/courtesy 40 Days for Life Boston
Help us expand our reach! Please share this article
BOSTON -- Advocacy group for the unborn, 40 Days for Life Boston, began their 40-day campaign in front of the Planned Parenthood on Commonwealth Avenue, Sept. 24, their first since a new law replaced a 35-foot buffer zone law overturned by the Supreme Court in June.

Rita Russo, campaign director of 40 Days for Life Boston, said that despite some concerns their vigils have not been curtailed by the new temporary buffer zone law.

In June, the Supreme Court ruled by a vote of 9-0 in the case McCullen Et Al. v. Coakley that the original buffer zone around abortion clinics put an undue restriction on the free speech of those advocating for human life, but Massachusetts lawmakers scrambled to create a replacement within a month.

Russo attended a statehouse hearing in Massachusetts as lawmakers pushed through "An Act to Promote Public Safety and Protect Access to Reproductive Health Care Facilities" with the support of Planned Parenthood League of Massachusetts.

Russo said that those pushing for the law characterized pro-life supporter holding vigils outside clinic as a threat to public safety.

"The hearing was very distressing, because there were a lot of falsehoods presented by the opposite side," she said.

As written, the new law that replaced the former buffer zone law caused concern amongst pro-life advocates, because it seemed to give police on hand at abortion clinics broad leeway in dealing harsh punishments to sidewalk counselors.

Under the new law, police gained the power to disperse a group -- as few as two people -- found to "substantially impede" access to abortion facilities, moving the group back 25 feet from the entrance of the facility, for a maximum of eight hours or until the clinic closed.

Potential penalties under the new law appeared harsh according to pro-life groups when the new law went into effect in August. Even first-time offenders found to "impede a person's access to or departure from a reproductive health care facility with the intent to interfere with that person's ability to provide, support the provision of or obtain services at the reproductive health care facility" potentially faced a fine of $1,000 and six months in prison. Repeat offenders faced fines of up to $25,000 and 5 years in prison.

Russo said those who participate in 40 Days for Life do not yell at people entering the clinic, or impede entry. She said they simply advocate that people consider the possibility of life for their unborn child.

"From my experience, as long as we observe the law, which we do, the buffer zone doesn't go into effect. The only way it kicks in is if you obstruct access to the clinic, and we never do anything like that," said Russo.

According to Russo the mood at the vigils -- participants stand in front of the facility for 12 hours a day beginning at 7 a.m. -- has remained peaceful and respectful, and that the new 25-foot temporary buffer zone has not been imposed.

"We're respectful. In fact, people in general tend to give the sidewalk counselors space, so that people are not overwhelmed," Russo said.

According to a September email from 40 Days for Life, 8,973 babies have been born, 56 abortion centers have closed, and over 100 workers have left the abortion industry as a result of the annual campaign that began in 2007. Russo said she saw the result of the efforts in person, Oct. 6, at a morning gathering in front of the Boston Planned Parenthood.

"A woman came by, walking, carrying a little baby boy in her arms, and she stopped and spoke to us," Russo said.

According to Russo the woman said the sidewalk counselors convinced her to keep her baby.

"I was going to do it. I had the appointment, and you guys were out here praying, and I couldn't do it, and look at my beautiful baby," Russo recalled the woman's words.