Obituary: Msgr. Robert Boyle former pastor in Charlestown, Quincy and Acton
---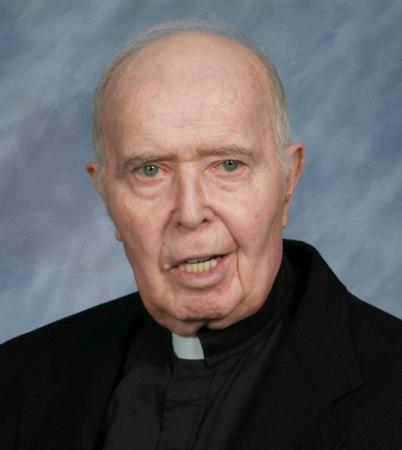 Msgr. Robert J. Boyle Pilot file photo
Help us expand our reach! Please share this article
Cardinal Seán P. O'Malley was the principal celebrant of the funeral Mass of Msgr. Robert J. Boyle on Nov. 14 at St. Charles Borromeo Church in Woburn. A Woburn native where he was born on Jan. 25, 1926, Msgr. Boyle died at Regina Cleri Residence in Boston on Nov. 10; he was 88 years old.

One of the three sons of the late Edward and Sarah (Quinn) Boyle, he was raised in a tightly knit Catholic family and attended the parish elementary school and Woburn High School. During his youth he as well as many other young men of the Woburn parish were influenced by the outstanding priestly example of Father "Hank" Garrity a priest legendary in that parish for his promotion of vocations to the priesthood. At the time of his retirement in 1997, Msgr. Boyle recalled that at one point there were 30 priests (both archdiocesan and religious) who could trace their priestly vocations through Father Garrity; among them are Msgrs. Francis G. O'Sullivan and Francis J. McGann, both senior priests.

After attending Boston College for a few years, he enrolled at St. John's Seminary and following completion of seminary studies, he was ordained by Archbishop Richard J. Cushing at Holy Cross Cathedral on April 11, 1951. His first assignment was as an assistant at Our Lady of the Assumption, Marshfield. The assignment was brief, lasting only until September when he was named to what would be the longest single assignment of his active priestly ministry, assistant at St. Joseph, Belmont.

In 1964 he was named an assistant at Holy Name, West Roxbury, in early 1968 an assistant at St. John the Evangelist, Beverly and later that year an assistant at the Cathedral of the Holy Cross. He was at the Cathedral for six years serving variously as chaplain and then principal of the high school, and then briefly again as an associate until he was named pastor of St. Mary Parish in Charlestown in 1974.

Bishop Robert Hennessey, who was a concelebrant of the funeral Mass, as a seminarian served with several others at St. Mary, "He was just a great priestly example. The people loved him there. He was involved in everything. He really taught us what it was to be a parish priest. He loved to have gatherings of priests and we were there. I remember St. Patrick's Day when Msgr. Charles "Zip" Finn was there; confirmation with Bishop Joseph Maguire and his great stories; and the Tall Ships in 1976 when we got roof top seats at the old rectory on Monument Square."

After ten years at Charlestown, Father Boyle was named briefly administrator and then pastor of Star of the Sea Parish in Quincy's Squantum section. In 1989 he was named pastor of St. Elizabeth of Hungary parish in suburban Acton. While in Acton, he also served a term as a vicar in the Concord Vicariate.

He retired to Regina Cleri in November 1997, when Cardinal Law named him a senior priest. On April 21, 1998 he was among a group of 30 Boston priests named to the papal household as prelates of honor with the title of Rev. Msgr. -- as far as he was concerned, and preferred -- Father Boyle was better. His many admirers and friends, clergy and lay, nodded approval at the well deserved recognition.

Msgr. Boyle always was upbeat and genuinely happy as a priest, even in the last few years of declining health he seemed to wear his customary smile.

Among those concelebrating with the cardinal and Bishop Hennessey were Msgr. Francis McGann, Fathers James Canniff, who succeeded Msgr. Boyle in Charlestown; Eugene Sullivan, Edwin Condon; St. Charles's pastor, Father Timothy Shea and parochial vicar, Father Daniel McCoy; Fathers Brian Kiley and Gerard Petringa and Father William Joy who was the homilist.

Msgr. Boyle is survived by his brother Gerard "Spike" of Woburn and nieces and nephews. Following his funeral Mass he was buried in Calvary Cemetery, Winchester.