Boston-area Sisters host prayer vigil for Human Trafficking Awareness Day
---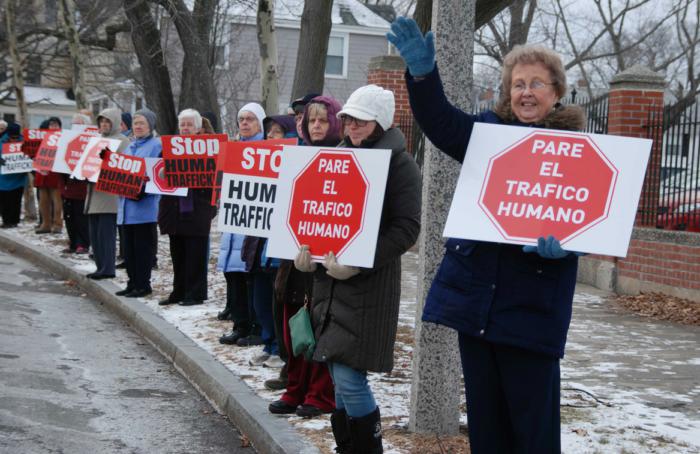 Sister Pauline Curley, CSJ, is pictured during a silent prayer vigil outside the Sisters of St. Joseph Motherhouse Chapel on Cambridge Street, Jan 11. Sisters and supporters gathered on the National Day of Human Trafficking Awareness to pray for an end to modern-day slavery. Photo courtesy/Sisters of St Joseph
Help us expand our reach! Please share this article
BOSTON -- For the eighth consecutive year, local Catholic Sisters from the Boston Unit of the Leadership Conference of Women Religious, representing 16 congregations in the Greater Boston Area, gathered with over 150 sisters, associates, and friends on Jan. 11, National Day of Human Trafficking Awareness, to pray for an end to human trafficking, also known as modern-day slavery.

An estimated 850,000 people are trafficked annually worldwide, according to the U.S. State Department, 20,000 of them into the United States. Human trafficking forces men, women, and children into pornography, prostitution and other sexual exploitation, as well as labor exploitation. In 2007, the U.S. Senate designated Jan. 11 as a National Day of Human Trafficking Awareness in an effort to raise consciousness about this global, national and local issue.

During the introduction to the prayer, participants were reminded of Pope Francis' 2015 New Year's World Day of Peace message, in which he called on all nations to fight "modern forms of enslavement" and human trafficking. "Millions of people today are deprived of freedom and are forced to live in conditions akin to slavery," the pope said.

In a statement issued following the prayer vigil, the Boston Anti-trafficking Coalition, which is a collaboration of congregations of women religious in the Boston area, said it believes that in addition to words and actions, prayer and silent vigil are powerful tools to eradicate human trafficking.

The group said it is "heartened by the words and efforts of many civic and church leaders across the commonwealth, the country, and the world who realize that the $150 billion dollar worldwide 'industry' of trafficking of more than 21 million persons runs counter to basic tenets regarding the dignity and value of each person."