Having a large family, following God's will, brings joy, say local couples
---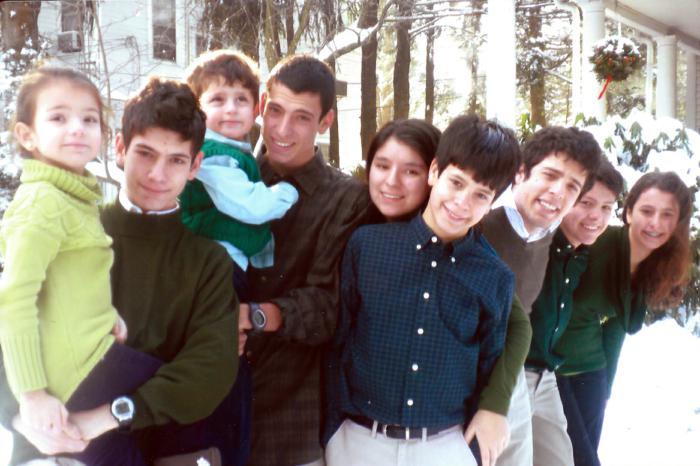 Ana, Diego, Juan Pablo, Felipe, Mariana, Andres, Francisco, Juan Carlos, and Monica Fernandez del Castillo, the children of Carlos and Sylvia del Castillo. Pilot photo/courtesy the del Castillo family
Help us expand our reach! Please share this article
When people learn that David and Kathy Reilly of Medfield have seven children, they often respond with a sympathetic, "Oh, God bless you."

"And I'll say, 'Oh yes, He has," said Kathy Reilly, who told The Pilot in a recent interview that her and David's lives have been "enriched" by their children, whose ages range from 10 to 25.

"We're grateful for these kids. We only have them for such a short time and we try to make the most of it," said David Reilly.

The Reillys, married for 26 years, are acquainted with several large Catholic families in the archdiocese. Through a common connection to Opus Dei, David and Kathy Reilly are also friendly with Carlos and Sylvia del Castillo, a Newton couple married for 27 years who are parents of nine children, ages 7 to 26.

"I didn't know I would have as many children as we do. I didn't think that far ahead. I just put myself in His hands, and whatever was going to be, was going to be," Sylvia del Castillo said.

Parenting large families is not easy. It requires discipline, daily sacrifices, time management skills, a clear set of priorities, not to mention a sense of humor. In a society that elevates a contraceptive mindset and individual autonomy, having more than two children, if any at all, is strikingly countercultural.

But guided by the Catholic faith that permeates all aspects of their lives, the Reillys and del Castillos are leading happy, joy-filled families where the children know they are loved.

"My kids all just really get along really well," Sylvia del Castillo said. "I think when you're part of a large family, it's less about you all the time. You learn to roll with the punches. You learn to be more generous. You learn to stop what you're doing and play with your baby sister."

David Reilly said he sees his children learning from each other. Two children are in their early 20s and working in Boston while the youngest is in grade school. Despite the age gap, the bonds and friendship between the children "is such a joy to see," Kathy Reilly said.

"As the children came along in the family, we got to see the generosity," she said. "It comes very natural in a large family because everybody is pitching in, everybody is helping out, and everybody is loved and cherished as a gift from God."

Like the del Castillos, the Reillys did not have any preconceived ideas of how many children they would have. They sought to follow and trust God's will.

"Whatever children He would send to us, our attitude was that we would receive them with a lot of joy and gratitude," Kathy Reilly said.

A faith-filled outlook has been at the center of the families' everyday lives. The Reillys and del Castillos both lead their children to say a morning offering on the way to school. Kathy and David Reilly start their day with mental prayer, and try to say the rosary together as a family whenever they can. Carlos and Sylvia del Castillo and their children also say the rosary together, as well the Angelus.

"Nothing too overwhelming," said Sylvia del Castillo, who like Kathy Reilly is a stay-at-home mother who attends daily Mass when she can. Both husbands work outside the home. Carlos del Castillo is a gastrointestinal surgeon, who specializes in the pancreas, at Massachusetts General Hospital in Boston. David Reilly is group chief operations officer for Dorel Juvenile Group, a child car seat manufacturing company.

Family traditions have also worked to instill the Catholic faith in the children. On Sundays in Advent, the del Castillos light the wreath, read from the Old and New Testaments and sing Christmas carols. The children have also studied the lives of the saints and read Church documents. The del Castillo children even studied Blessed Pope Paul VI's 1968 encyclical "Humanae Vitae," on the regulation of birth.

"One child told us, 'Whoever said the Church is against women has never read that document,'" Sylvia del Castillo said. "You expose them to things. You give them the formation."

The Reilly children's Catholic formation was especially evident when one of Kathy and David's sons, Patrick, died at childbirth. On the way to the cemetery, the children were saying "how cool" it was that their brother Patrick was meeting St. Nicholas and other great saints in heaven.

"That is the kind of childlike faith that we should all have," said Kathy Reilly, who along with her husband emphasize balance in their children's lives to discourage them from overextending themselves with too many extracurricular activities.

"One activity at a time. Trying to do three different activities at the same time is not going to fly," said David Reilly, who also focuses on instilling his children with character and virtue.

"It's a struggle every day to put people above things, and God above everything," he said. "For us, having a prayer life is the key to prioritize things. It keeps our lives focused as well as gives us the ability to have a good attitude. Being grateful, I think, that's where it starts. That is the key to making it work."

Though conceding that she could have had a "much easier life," Sylvia del Castillo said she has "absolutely no regrets" about the decision she and her husband made to be open to children.

"How do we make it work?" she said. "It just happens."