Forming the future: Armenian Sisters Academy, Lexington
---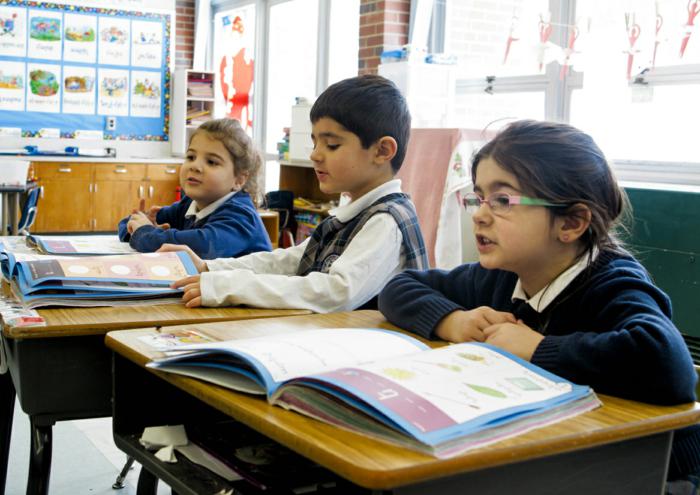 Kindergarteners Talia Tarabelsi, Dominic Tarabelsi and Isabel Koutoujian listen to their teacher, Ms. Chaghlasian, at the Armenian Sisters Academy in Lexington. Pilot photo/Donis Tracy
Help us expand our reach! Please share this article
Students at the Armenian Sisters Academy in Lexington are getting a history lesson they won't soon forget.

This year marks the 100 year anniversary of the Armenian Genocide, in which it is estimated that 1.5 million Armenians were killed under the rule of the Ottoman Empire in what is now Turkey. The starting date of the genocide is traditionally marked on April 24, the date when, on 1915, Ottoman forces captured 250 Armenian intellectuals in Constantinople. However, rather than memorize facts and dates, students are being asked to interview family members to "let them find themselves and their own families within the Armenian story," explained Mayda Melkonian, vice-principal and Armenian Curriculum Director.

Students then will write an essay based on their families' individual story, she said.

"We want our students not only to learn the history of the Armenian people, but also their own families' stories, and to see how the two are part of the same," Melkonian added.

This project marks one of the many ways the Armenian Sisters Academy integrates the Armenian culture into their classroom.