135 years of compassion in the Archdiocese of Boston
---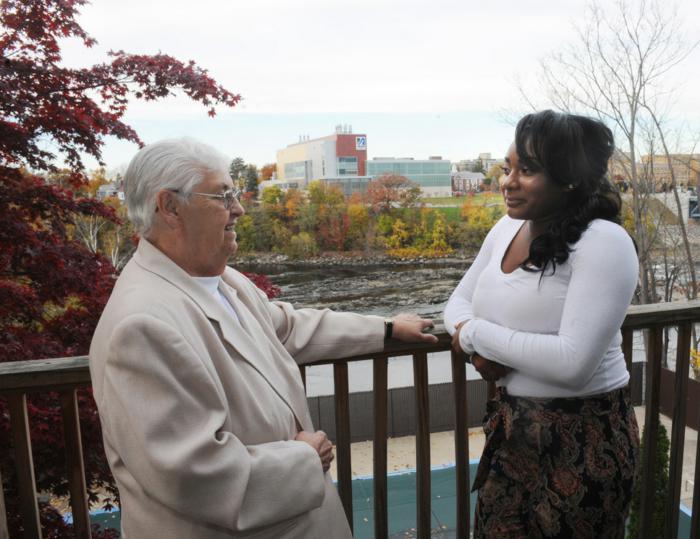 At Bachand Hall, the Sisters welcome young women who have aged out of foster care. Sister Cecile Cloutier, SCO the administrator of the residence, and Keisha Enagbore, one of the residents chat at Bachand Hall overlooking the Merrimack River. Photo courtesy/Tory Germann
Help us expand our reach! Please share this article
The Sisters of Charity of Ottawa, Grey Nuns of the Cross, are daughters of Elisabeth Bruyere who, in 1845, came from Montreal to the logging camp of Bytown, later to become the capital city of Canada (Ottawa) to provide education, health care and service to those in need. She was 26 years of age and the superior of the group of four sisters and two candidates. She had professed her religious vows in the congregation founded by St. Marguerite d'Youville in 1737 in Montreal. Little did she know at that time that she would become the Superior General of this new branch of Grey Nuns and serve in that capacity until her death in 1876.

Elisabeth wasted no time in reaching out to French-Canadian immigrants in the United States and opened the first mission in Buffalo, New York, in 1857. Lowell's textile mills drew many French-Canadian families with dreams of a better life, and so the Sisters were invited to provide education for their children. In 1880, seven Sisters arrived to staff the Immaculate Conception School. In 1883, they opened St. Joseph School where, on the first school day in September, over 500 children arrived to enroll. In 1888, some Sisters went to Haverhill to open a school which still flourishes today under lay leadership. Two other schools were established in Lowell, Notre Dame de Lourdes and St. Jeanne d'Arc which still enjoys the Sisters' presence today after 105 years. The year 1928 saw the birth of St. Joseph High School for Girls, which is now one of the legacy schools of Lowell Catholic High School.

In 1930, an abandoned wooden hospital, built originally to care for the mill workers, would be revived to become the second Catholic Hospital in Lowell under the patronage of St. Joseph. Again, the Sisters responded.

Care of the elderly became a concern in the 1950s when Medicare still had not seen the light of day. Seventy-five acres of abandoned farm land on the outskirts of Lowell were purchased with trust that God would show the way. Today, D'Youville Life and Wellness Community, initially know as D'Youville Manor, caring for several hundred seniors in a continuum of care from independent housing to hospice care, as well as a short-term rehabilitation center, an adult day care center, and an accredited health-care education center round out that dream.

With the merger of the three hospitals in Lowell over the past two decades, the former residence of the Sisters who staffed St. Joseph Hospital needed a new mission. Since 2005, in collaboration with the Department of Children and Families, the Sisters welcome into their home young women who have aged out of foster care but still need a supportive environment before launching out on their own. The young woman come either as students at the nearby University of Massachusetts-Lowell or at Middlesex Community College or in a career training program; these women journey toward their independence.

St. Jeanne d'Arc School continues to excel in providing quality Catholic education to close to 400 students from pre-K to Grade Eight in a challenging and nurturing environment. It has been recognized for its excellence by the United States Department of Education in 2010 as a Blue Ribbon School and continues to draw students from over 20 communities around Greater-Lowell.

The spirituality of the congregation has always been based on trust in God's Divine Providence and the Sisters have sought to incarnate this Divine Presence in the service they offer to those in need, not only in Massachusetts, but also in Canada, Brazil, Cameroon, Zambia, Malawi, the Republic of South Africa, Lesotho, Japan and Thailand, reaching out to the abandoned and neglected in society. In the words of Elisabeth Bruyere, "The day we lose our love for the poor, we lose the very reason for our existence."

Sister Pauline Leblanc, SCO is local contact for the Sisters of Charity of Ottawa; St. Joseph Residence, 977 Varnum Ave., Lowell, MA 01854-1913, prleblanc2@comcast.net. Website: www.soeursdelachariteottawa.com (site is in French and English).