Archdiocese takes legal action to end Scituate vigil
---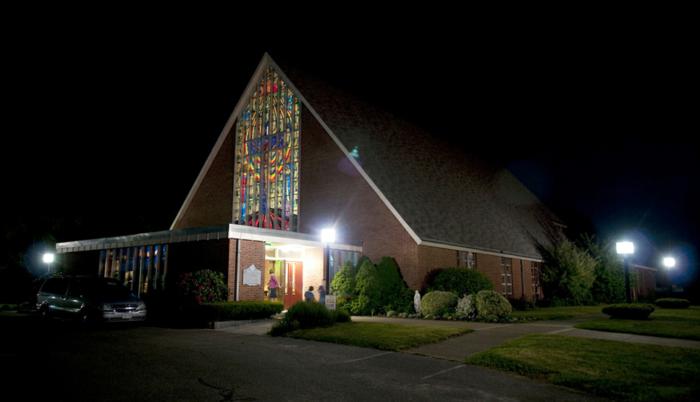 St. Frances X. Cabrini Church in Scituate, Mass., is seen at night in May 2010. CNS photo/Jodi Hilton
Help us expand our reach! Please share this article
The Archdiocese of Boston has taken a group occupying St. Frances Xavier Cabrini Church in Scituate to court to compel them to leave the former church they have been occupying for more than 10 years. The matter was heard in Norfolk Superior Court in Dedham on March 20.

The former church was closed as part of the archdiocese's 2004 Parish Reconfiguration process. At that time, the archdiocese "suppressed," or legally dissolved, 70 parishes and subsequently closed most of their church buildings. In response, former parishioners at 11 parishes filed appeals with the Vatican and some occupied church buildings to keep them from closing. St. Frances X. Cabrini is the last former church with an ongoing vigil.

Throughout the process, the archdiocese said it would not take action against former parishioners as long as appeals were outstanding.

After several rounds of appeals, the Vatican ultimately upheld the archdiocese's right to dissolve the parishes in 2010. A second round of appeals was then launched to stop the church buildings from being "relegated to profane but not sordid use." "Relegation" allows the church building to be used or sold for secular purposes but not for "sordid use," one that is immoral or offensive to Catholics.

In June 2014, the Church's highest court, called the Apostolic Signatura, ruled against the former parishioners, rejecting their final appeal. With that decision, the archdiocese considered the appeals process concluded and urged parishioners to leave the building.

In February, the archdiocese set a March 9 deadline for the group to leave the building.

While the archdiocese would not comment on the ongoing legal action, in a March 23 statement spokesman Terrance Donilon said, "The Archdiocese stayed true to its word and respected the vigil while their canonical appeals were considered. When the highest Vatican court issued its decision, we made several attempts to acknowledge their disappointment and encourage the Friends of St. Frances X. Cabrini to conclude their vigil and join the open parishes in their community."

Donilon added, "Both sides went into the process knowing the possible outcomes. The Archdiocese was prepared to respect the ruling from Rome whichever way it was decided. Recently the group informed the Archdiocese of Boston it would not conclude its vigil in the building. In response, the Archdiocese informed the group on February 3, 2015 that they must end their occupancy of the building within a month -- by March 9, 2015. Their refusal has led to the filing. We continue to hope and work for a peaceful and prayerful resolution to the vigil."