Capuchin Friars: Making the commitment to consecration in Boston
---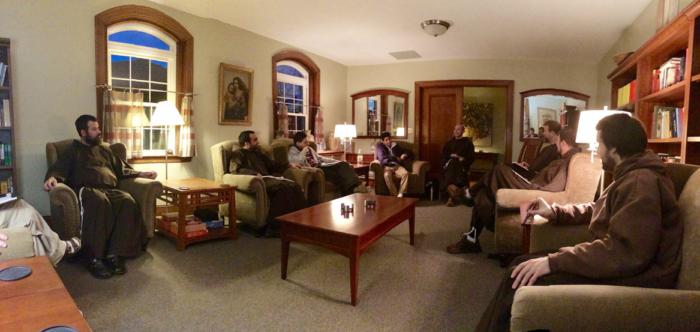 Friars from San Lorenzo and St. Francis Friaries at an evening discussion on Franciscan spirituality. Courtesy photo
Help us expand our reach! Please share this article
In recognition of the 50th anniversary of Second Vatican Council, Pope Francis has declared 2015 a Year of Consecrated Life. Pope Francis has asked the Church's brothers, sisters, and priests to "wake up the world" by sharing their faith, hope, and holiness through their testimony about their experiences living a consecrated life.

"Consecrated religious" is a term used to refer to brothers, sisters, and priests of the Catholic Church who feel called to follow Jesus Christ in a more exacting way and thus take vows of poverty, chastity, and obedience, thereafter living a consecrated life.

Our Capuchin Franciscan Friars of the Province of St. Mary have all professed these vows and are living a consecrated life. But their decision to do so is considerably more involved than simply taking a set of vows. Men interested in joining the Province of St. Mary, or any Capuchin Franciscan Province, undergo a process called formation.

The early stages of the formation process include candidacy, postulancy, and novitiate. During candidacy, interested men experience the fraternal connection among the Capuchin brothers, working and praying with them. During postulancy, these young men live in residence with each other and with professed Capuchin Franciscans for nine months, learning more about what it means to be a Capuchin.