Ordination class of 2015: Deacon Peter Stamm
---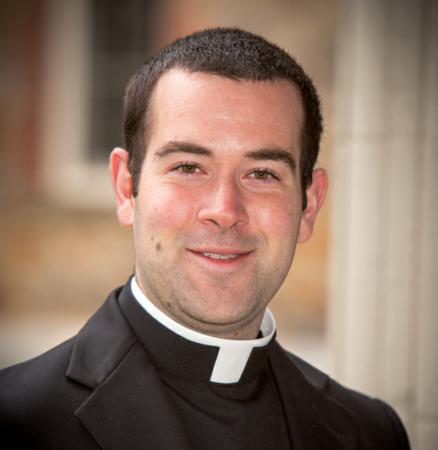 Deacon Peter Stamm Pilot photo/George Martell
Help us expand our reach! Please share this article
This is the third installment in the series profiling each of the five men who will be ordained to the priesthood by Cardinal Seán P. O'Malley at the Cathedral of the Holy Cross on May 23.

For as long as Deacon Peter Stamm can remember, he has been drawn to the priesthood. Even while he was in elementary school, he said he "was very fascinated with the priest at the altar and I wanted to be close to that."

Growing up in Washington, D.C., Deacon Stamm was the oldest of three brothers and was always very involved in his home parish -- Our Lady of Victory Church. As a teen, Deacon Stamm often thought about his vocation.

"I saw more and more the great unhappiness people have in the world," he recounted. "And I really came to believe that the way to contribute to end this unhappiness in people was to share the Gospel, the truth of Jesus Christ and the peace he can give which the world cannot give."

After graduating high school, he attended Boston College, where he graduated with a degree in philosophy. He then spent the next four years living as a friar with the Franciscans of the Primitive Observance, a religious order based in Lawrence that live a strict observance of the Rule of St. Francis.

As a friar, he often would lead weekend retreats for young people. It was at one of these retreats that Deacon Stamm realized God was not calling him to become a friar, but to become a diocesan priest.

"I realized that the issues people are dealing with today are so pervasive and complex that they really need someone to accompany them in a more long-term way, the way a pastor does," he said.

That fall, he left Lawrence and began his studies at St. John's Seminary. Although the change was "dramatic" -- the Franciscans of the Primitive Observance do not use modern technology and rely on donations for their livelihood -- Deacon Stamm "never felt any regret about the decision," he said.

"That time in the community was very graced," he continued, "because it really taught me the importance of prayer for any ministry, self-discipline, and reliance upon God's providence."

Deacon Stamm hopes to model his priesthood after Msgr. Harry Echle, the longtime pastor of his home parish who died in 2006.

"(Msgr. Echle) was so kind to everyone and his faith shone forth with everything he said or did in a way that was so powerful, without being overwhelming," he recalled. "In his gentleness there was such strength. I really see that as the kind of priest I would like to be. I think that's the sort of priest the Church needs."

Deacon Stamm acknowledged the many challenges facing the Church in the world.

"It can seem overwhelming because no one has all the answers," he said. "So I think that great trust is needed. And great humility, because we are not the savior, so we can't do it all. I also think great determination is needed as well -- to do what we can, and to be flexible to whatever comes."

He noted that he is looking forward to being able to celebrate the Mass, as well as to administer the sacrament of reconciliation.

"I know so many people who have experienced a real change in their life through that sacrament, so I look forward to helping people experience God's mercy that way."

"It's amazing when you realize that it's not about oneself per se, but it's about the priesthood," he added. "They are encountering the priesthood of Jesus Christ, and it's awesome to think I'll be a part of that."