Inner City Scholarship Fund honors Volunteer of the Year
---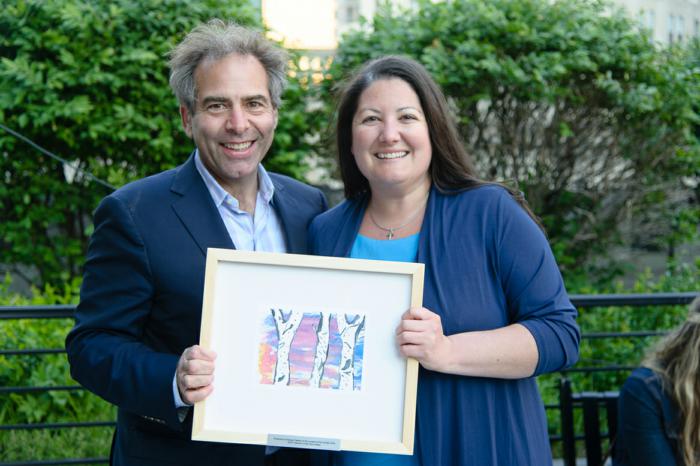 Rick Henken, president of the Catholic Schools Foundation's board of trustees, presents Kristina Valente with the Inner City Scholarship Fund (ICSF) Volunteer of the Year award -- a framed work of art produced by a student at St. John Paul II Catholic Academy's Neponset Campus. Pilot photo/Professional Event Images, Courtesy Catholic Schools Foundation
Help us expand our reach! Please share this article
BOSTON -- Kristina Valente, assistant vice president and events manager at State Street Corporation, was named Inner City Scholarship Fund (ICSF) Volunteer of the Year by the Catholic Schools Foundation at their "School's Out Celebration" held June 4 in Downtown Boston.

"Each year, CSF recognizes an individual who has shown tremendous dedication to our work and to our students. This is a person who is passionate about Catholic education and who has worked tirelessly, volunteering their time and raising awareness about the Inner-City Scholarship Fund," explained Rick Henken, president of the board of trustees for the CSF.

In presenting the award, Henken noted Valente's long involvement with the foundation's Young Leaders program, which has included co-chairing the young leaders dinner committee, and sitting on the planning committee for the Back to School Cup Golf Tournament in 2014, as well as organizing volunteer and fundraising events to benefit students. Most recently, he said, she became a founding member of the organization's Young Leaders Council.

Speaking to The Pilot June 17, Valente said she was honored to be chosen Volunteer of the Year, and that her involvement in the ICSF is something she values.

As a graduate of Notre Dame Academy in Hingham, "I identify both professionally and personally with the organization," Valente said.

For Valente, 28, helping other young professionals to get involved in the ICSF is somewhat of a cause.

"People want to find a cause," she said, "and they try to find an organization they feel they can make a real impact on. The ICSF is something they can certainly make their own."

Valente noted that young professionals just starting out "may not be able to write as big a check" as more established professionals, "but they can often times be much more present in the schools as volunteers, as mentors, as people who can touch someone's life."

"For the younger professional group, we are trying to do 'friendraisers,' and not just fundraisers," she said. "There are so many great opportunities offered by the Catholic Schools Foundation."