Pope brought message of love and mercy, says Cardinal O'Malley
---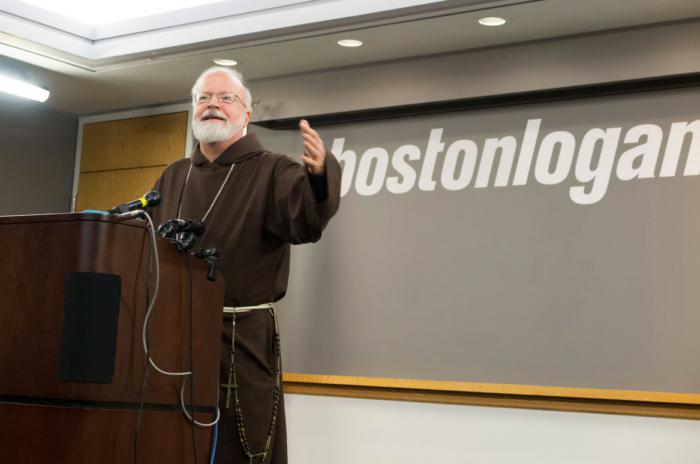 Cardinal O'Malley speaks with the media about Pope Francis's visit to the U.S. and Cuba at Logan Airport Sept. 29. Pilot photo/Donis Tracy
Help us expand our reach! Please share this article
EAST BOSTON -- Fresh off his return flight back to Boston from Philadelphia, Cardinal Seán P. O'Malley spoke to the media at Logan Airport about his reflections on Pope Francis's visit to the United States and Cuba.

"The Holy Father invited us to consider who we are as individuals, who we are as a people, why we are here, and what is our mission," Cardinal O'Malley said. "He lifted up so many very important themes for our consideration."

"The Holy Father raised life issues -- which is the centerpiece of our social gospel -- the sacred of life in all stages of development," he said, adding that Pope Francis addressed topics such as the death penalty, the arms race and human trafficking as part of the pro-life issues of our time.

He also spoke of immigration, Cardinal O'Malley said, asking Americans to "look at the faces of the refugees and immigrants, to listen to their stories and to remember their own history."

"He reminded us that we are a nation of immigrants, and that the strength of our nation has been in our diversity and our ability to work together to form community."

Central to these themes was love, he said, adding that this love was visible in the pontiff's concern for prisoners, for the elderly, for young people, and for the victims of sexual abuse and their families.

"The meeting with the victims and their families was a very moving and emotional moment," Cardinal O'Malley said. "It was, to me, one of the most important elements in his visits to our country, and embodies that spirit of mercy that the Holy Father wants to bring to the Church and to the world."

The cardinal noted Pope Francis "once again recommitted himself to the task of child protection," although he admitted that the task is a "massive education process."

He acknowledged the criticism that the Church is not moving fast enough, but "the Holy Father is taking steps to move us in the right direction," he said, adding that Pope Francis is "committed to making sure that there is justice around these areas."

Cardinal O'Malley noted that Pope Francis began his trip by visiting Cuba, a "very symbolic place for us in the Americas."

"The Holy Father, who was so instrumental in promoting the normalization of relation between these two countries added this trip to Cuba as a way of underscoring the importance of reconciliation between peoples," explained the cardinal.

"The Holy Father so often made reference to the fact that the Church is poised to begin a Year of Mercy," he said. "Mercy is at the heart of the Gospel."

"(Pope Francis's) purpose is to demonstrate that in all the Church's teachings, the context has to be unconditional love," the cardinal explained. "The Church's position cannot be that of self-righteousness or pharisaical condemnation or people who disagree with us. Our mission as a Church is to reflect the unconditional love for everyone."

"We realize there are people who don't agree with us," he continued, "but the Holy Father is saying we need to have more dialogue, more respectful dialogue, where we understand one another's positions."

He was quick to add that, "the Holy Father is not about changing Church teachings, but I think he's trying to contextualize it. It's only love that gives meaning to any of our Church teaching and we cannot teach them or communicate them without the unconditional love that reflects the love of our merciful God."

"I think all Catholics feel good about being Catholic having this Pope," Cardinal O'Malley said. "He has been able to touch people's hearts."

Cardinal O'Malley also praised the Holy Father's "stunning" address to Congress.

"I never heard him speak English for so long," he said, laughing.

"The Holy Father spoke so often about the common good, calling us to have a sense of community," he continued. "We know there is so much polarization in our world...and Pope Francis is acutely aware of the influence that America has on history and on the world."

Pope Francis "called us to be the best version of ourselves," the cardinal said, noting that this would cause "ripple effects" on the entire world.

This was met with overwhelming enthusiasm, Cardinal O'Malley said. "Pope Francis has such a great ability to connect with people. He has such a simple and direct way about him."

"You could see that his presence generated a spirit of joy, a sense of community, a sense of being a family."