Obituary: Two women of the Church
---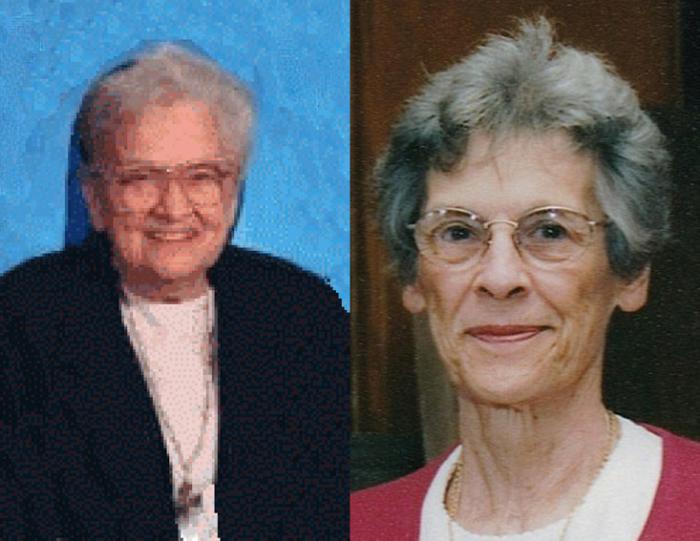 Sister Eustace Caggiano, CSJ and Ruth Cox Courtesy photos
Help us expand our reach! Please share this article
There are pioneers and troopers who often come before a shift or movement in a society, in the Church, or in government. The archdiocese has been blessed by many women who were one or both of these. Last week we said goodbye to two of them -- Sister Eustace Caggiano, CSJ and Mrs. Ruth Cox.

Sister Eustace was both a pioneer and a legend. She brought the feminine touch to El Centro del Cardenal in Boston's South End, operating her mission out of a cramped office in the center, just across the street from our cathedral. Shortly after she was professed as a member of the Sisters of St. Joseph of Boston, 80 years ago, she was assigned to the first of a series of very large convents where she was the cook. While at the cathedral parish she got herself involved in the Spanish Speaking Apostolate.

Perhaps shaped by her own childhood, both parents died while she was very young and she was raised with her cousins, she had a deep love for and desire to serve the poor, especially immigrants, as the Sisters of St. Joseph say "her dear neighbor." Desire of service must have been a family trait; one of her brothers, Pasquale, "Patsy" would become mayor of Lynn.

Sister's fame, not sought, grew as she wheeled and dealed in and around Boston, securing food, home goods, furniture, shelter -- literally anything for anyone in need. Even before recycling was in vogue, Sister Eustace was recycling all kinds of things all to help those new to the city, or whose luck was down, or who were simply in need.

At her death on Sept. 26 local media saluted her for her tireless efforts to serve the poor and to heighten awareness of their needs. Even at the time of her death at 102, she remained a pioneer and legend.

Sister's funeral was celebrated at the chapel of the Sisters of St. Joseph retirement home in Framingham on Oct. 2. Priests and former workers as well her community of sisters came to give thanks to God for Sister Eustace's life and for her example of service without thought of self or cost.

Although she took a different road -- that of wife and mother and grandmother, Ruth (Barry) Cox was another one of those women, often unseen, but equally essential to the Church's mission.

Following her marriage to her late husband, Thomas (he died this past spring) she saw the world through the prism of Tom's Navy career. From Hawaii, to California to Virginia and up to Connecticut they saw the USA. Back in Scituate they raised two children, Raymond and Mary. In the early '90s, the family returned to Ruth's family home in West Roxbury to care for her aging mother; and at the same time she became an administrative assistant of The Pastoral Institute located on the grounds of St. John's Seminary.

With changes brought by the closing of the Pastoral Institute, the merging of offices and changing of roles and missions, Ruth shifted gears effortlessly. All of her service was to priests under the large assemblage of offices under the umbrella of "clergy services."

She knew the priests and the archdiocese amazingly well, and was a cornerstone of arranging programs, sites and services. She was a ready ear for priests who might have experienced a problem navigating the sometimes confusing array of offices often with shifting titles and responsibilities. She was always cheerful with collaborators at the pastoral center; and was the soul of discretion regarding sensitive and confidential matters.

Father James Mahoney, pastor of Holy Ghost Parish, Whitman and of St. Bridget Parish in Abington was the principal celebrant and homilist at Ruth's Funeral Mass at St. Theresa of Avila Church on Oct. 3. Among the two dozen or more priests present were the parish's pastor, Msgr. William M. Helmick; Father Robert M. Blaney, Clergy Personnel Office; Father Robert J. Blaney, Sacred Heart and Our Lady Help of Christians, Newton; Father John Connolly, Holy Family, St. Peter and Blessed Mother Teresa of Calcutta, Dorchester; and Deacons Leo Donoghue and Patrick Guerrini, both of whom had worked with Ruth in Clergy Services. Two of Boston's auxiliary Bishops were also present, Merrimack Regional Bishop Robert Hennessey, and archdiocesan vicar for Evangelization, Bishop Arthur Kennedy.

In addition to family and friends present, as one priest observed "I was so happy to see over 30 staff from the archdiocesan pastoral center at the Mass, clearly recognition of her universal admiration among the staff of the pastoral center." Following the Mass, Ruth was buried in Holyhood Cemetery, Brookline.