Relics of St. Maria Goretti venerated at cathedral
---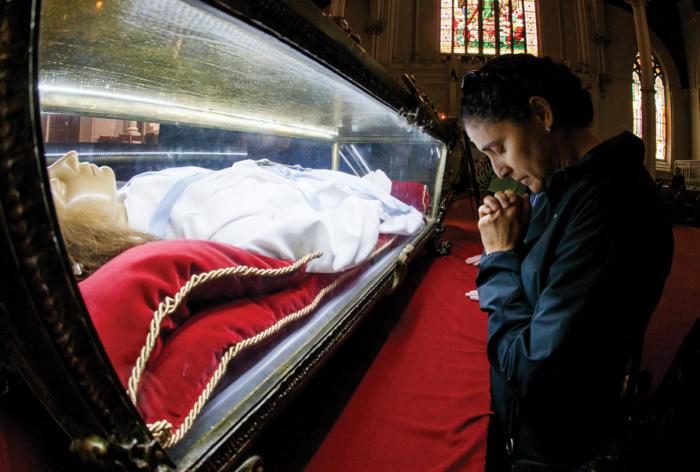 Cathedral parishioner Linda Gill venerates the relics of St. Maria Goretti at the Cathedral of the Holy Cross Oct. 5. Pilot photo/Gregory L. Tracy
Help us expand our reach! Please share this article
During a historic first tour through the United States, the relics of St. Maria Goretti made a stop at the Cathedral of the Holy Cross, Oct. 5.

Sponsored by The Treasures of the Church ministry, the "Pilgrimage of Mercy: the Tour of the Major Relics of St. Maria Goretti" began in September and will run until Nov. 13, visiting a number of locations in different U.S. states.

In Boston's Holy Cross Cathedral the relics, which are contained within a wax statue of the saint, were honored with a public veneration at an 11 a.m. Mass, and again at a 7 p.m. benediction.

Speaking with The Pilot, cathedral pastoral associate Sister Ruth Haley, SSND, who was present throughout the day's events, estimated that 600 to 700 people attended the morning Mass, celebrated by Father Paul Ritt, pastor of St. Maria Goretti Parish in Lynnfield.

The homilist for the Mass was director of Treasures of the Church ministry Father Carlos Martins, CC, who delivered a detailed account of the saint's life, death and legacy.

"I was definitely impressed by how many people (came), and the faith and belief of those people who came," Sister Ruth said. "We had very strong, young families ... and they brought their whole families, and I was amazed by how many people asked if they could kneel as a family. And of course we said yes."

She added that among those present at the morning Mass and veneration were around 200 students from Bishop Stang High School in Dartmouth. Sister Ruth described the students as "remarkable."

She said they had done some research on the life of the saint and that "their devotion, their prayer, was just very, very impressive."

Sister Ruth estimated that around 550 people attended the 7 p.m. benediction and veneration, many of whom took advantage of the opportunity to receive the Sacrament of Reconciliation.

"One of the other things that really kind of impressed me was how many people went to confession," Sister Ruth said.

"I think in the evening we might have had 20 people waiting in a line," she explained.

According to organizers, the tour of the relics St. Maria Goretti is in part to promote the upcoming Holy Year of Mercy, which will run from Dec. 8 to Nov. 20, 2016. St. Maria is known for the great mercy and forgiveness she showed to her attempted rapist and murderer, Alessandro Serenelli.

The relics are contained in a life-like wax statue of her body. None of her remains are visible, and only her nearly complete skeleton lies within the statue. The right arm of the skeleton lies in her birth town of Corinaldo, Italy, in the Church of St. Nicholas, which is now known as the Sanctuary of St. Maria Goretti.

Her right arm is significant because with it the saint defended herself and her purity from an attempted rape by Serenelli.

However, although she was able to protect her purity, Serenelli stabbed her 14 times. Within 24 hours after the attack, St. Maria died in a hospital at the age of 11. On her deathbed, she forgave Serenelli.

"I forgive Alessandro Serenelli," she told those present. "I want him with me in heaven forever."

Serenelli was sent to prison to serve a 30-year sentence. After only a few years there, St. Maria appeared to him in a vision. The vision changed his life, he later claimed, and after he was released he became a lay brother of the Capuchin Franciscans.

St. Maria Goretti was canonized in 1950 by Pope Pius XII, becoming the youngest person ever to be declared a saint. She is the patroness of rape victims, young women, purity, and youth.