Christian Brothers in sixth decade of service at Catholic Memorial
---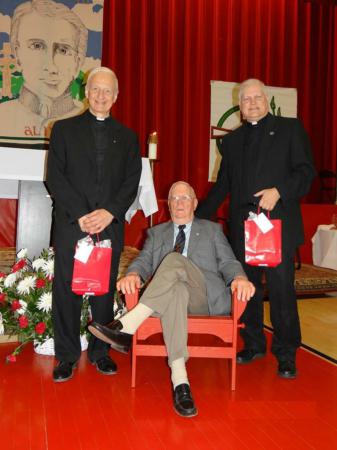 Brothers Cavet, Dornbos and Phelps gratefully acknowledge the gifts they received from the faculty at the Founder's Day Mass. Photo courtesy/CM staff
Help us expand our reach! Please share this article
6:25 a.m. seems rather early on some days as the three Christian Brothers serving at Catholic Memorial School in West Roxbury gather in the chapel for Morning Prayer. After a service of psalms and intercessions the Brothers drive to and from the 6:45 Mass at St. Theresa of Avila Church; then walk across campus to the classrooms and offices of Catholic Memorial School which Archbishop Cushing asked the Brothers to establish in 1957.

Montana-born Brother John Dornbos, CFC is the senior of the group. A 60 year veteran of religious life, he has been a teacher, a principal and a director of college campus ministries. He is often in the lower school visiting the Theology classes, telling students about the congregation's founder, Blessed Edmund Ignatius Rice, or leading discussions in the high school about the freshmen's religious experiences or practices. Outside the classroom, he rarely misses a game, a meeting or a social event connected with the school.

Brother Anthony K. Cavet, CFC is in his 46th year in the classroom where he usually has classes of freshman and sophomores engaged math, Spanish or Italian. At the end of the school day, he starts a two hour round of teaching debate and coaching speech for CM's nationally ranked forensic program. His week is punctuated by choir practice at St. Theresa's on Wednesdays and singing at the 10:30 Mass on Sunday morning.

The community leader is Brother Kirk Phelps, CFC originally of Rochester. In his 44 years in school ministry he has taught a variety of science and math classes and shouldered administrative duties in New York, New Jersey, and Rhode Island, as well as at CM. He is the Science chair, teaches three physics classes and is in charge of computer data including progress reports and report cards. He tends the school garden, mans the press box at football games and cooks for the faculty when they have to stay at school for an evening function.

At the end of a regular school day comes cooking, eating, clean-up, prayer, class preparation or an evening function at school.

This daily routine could be merely a praiseworthy, if frenetic, way to spend time if it weren't for the common prayers, meals and shared brotherhood and for the sense of mission which keeps their daily school activities rooted in the Gospel and which makes them anxious to invite young men to join their life and work.

Brother Anthony K. Cavet, CFC is in his 21st year at Catholic Memorial and his 50th year in the congregation.