Bell installed in new Seaport Chapel
---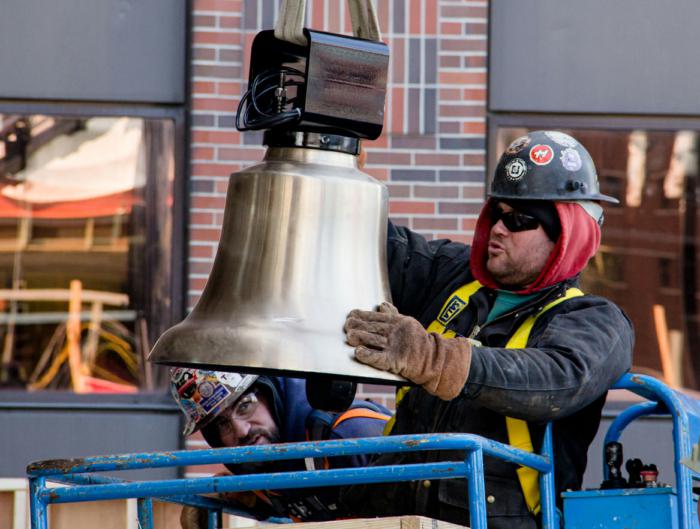 Workers place the 255 pound bell that will ring in the new Our Lady of Good Voyage Chapel in South Boston onto a lift that will carry it to the frame of the bell tower. Pilot photo/Mark Labbe
Help us expand our reach! Please share this article
SOUTH END -- After being blessed by vicar general Bishop Peter J. Uglietto in January, the bell for the new Our Lady of Good Voyage Chapel in South Boston was lifted 45 feet into the air and installed in the unfinished building's frame Feb. 12.

Recently forged by The Verdin Company of Ohio, the bell weighs around 255 pounds, and required two workers to install it in the frame of what will be the chapel's bell tower.

The new chapel will replace the present one-story red brick chapel that has stood for over 60 years on Northern Avenue. A ground breaking ceremony for the new Seaport Chapel, which will stand at the intersection of Seaport Boulevard and Sleeper Street, was held in November 2014. However, due to a legal challenge affecting the larger Seaport area development plan, work did not begin on the chapel until this past August.

Ken Colgate, director of Construction with WS Development in Chestnut Hill, told The Pilot that the chapel building should be handed over to the archdiocese in the summer of 2016, and could be open to the public by Easter of 2017.