A theologian's take on how to avoid conflict with North Korea
---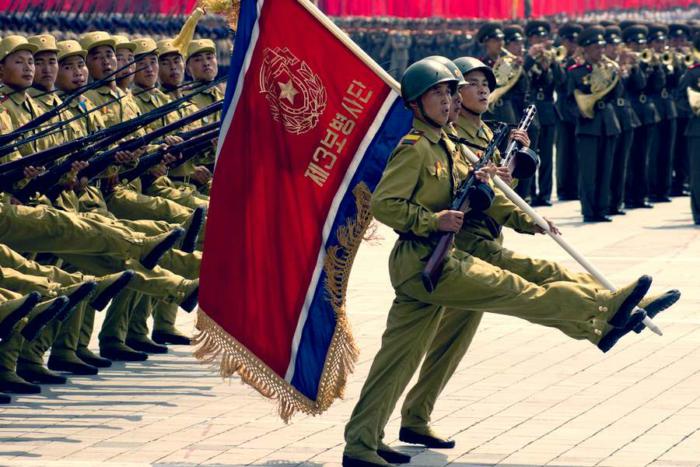 Untitled design
Help us expand our reach! Please share this article
Washington D.C., Aug 10, 2017 CNA/EWTN News.- Dialogue and prudent actions to uphold international resolutions are key to maintaining peace amid rising tensions between North Korea and the international community, one theologian said.

"Dialogue is critical to resolving this particular issue," Dr. Joseph Capizzi, a moral theologian at the Catholic University of America, told CNA. "We have kicked the can down the road for 50-plus years, with regard to Korea."

"And the further we kick the can down the road, the more difficult the situation becomes, the less solvable it becomes by the use of force. So dialogue is more essential now than it ever was before."

The Vatican has shown concern over the developing situation and has also expressed the need for dialogue between countries. Archbishop Silvano Tomasi, former Permanent Observer of the Holy See to the United Nations in Geneva, said on Wednesday that the "way of conflict is always the wrong way."

"The way forward is not that of having the latest military technology, but of having an approach of inclusion," the archbishop said, as reported by Vatican Radio.

In July, North Korea successfully tested ballistic missiles that had the capability of reaching the U.S. mainland, following a series of launches of medium-range and intercontinental ballistic missiles earlier this year.

Then on Tuesday, the Washington Post reported that North Korea had produced a small-enough nuclear warhead that could be placed inside a missile, according to intelligence analysts. North Korea reportedly has as many as 60 nuclear weapons, according to one United States estimate.

On Wednesday, DPRK state media reported that the Kim Jong-Un regime was considering a strike against the island of Guam in the West Pacific, the westernmost U.S. territory and one from which B-1 bombers have flown over the Korean peninsula in military exercises. The AP followed up on Thursday by reporting that a plan for North Korea to launch four missiles aimed to land in the ocean within 25 miles of Guam, as an exercise of its threat to the U.S. territory, had been hatched and could be submitted for approval in the next week to Kim Jong Un.

Because of North Korea's continued nuclear buildup and its ballistic missile tests, the UN Security Council unanimously voted last weekend to impose more sanctions on the Communist dictatorship.

President Donald Trump vowed on Tuesday that if North Korea continued to threaten the United States, they would "face fire and fury like the world has never seen."

Secretary of State Rex Tillerson said at a Wednesday press conference that "what the President is doing is sending a strong message to North Korea in language that Kim Jong-un can understand, because he doesn't seem to understand diplomatic language."

"I think the President just wanted to be clear to the North Korean regime on the U.S. unquestionable ability to defend itself, will defend itself and its allies," he said.

The need for dialogue carries with it the importance of prudence and "sobriety" in the rhetoric of U.S. and world leaders, Capizzi said.

"We do want to engage them," he said. "We're trying to pull back some of the incendiary nature of the rhetoric. And then to have the President immediately follow that up with the 'fire and fury' comment, it makes us seem erratic. It makes us seem inconsistent," he said.

Yet, he added, "action is much more important here than rhetoric." The international sanctions, and the unanimous vote of UN Security Council members – including even Russia and China -- to impose them, were an important step to take, he said, "to induce North Korea to stop testing missiles."

Also, the actions that have not been taken are important, he said, like an overly aggressive mobilization of U.S. military forces. "You don't see our military or our navy sort of ratcheting up right now," he said.

"That's what we really need to keep our eyes on, is what is our military doing? Where are our ships going in that part of the world? What is Japan doing?" he said. "And so far I think everybody recognizes there's nothing to gain by pushing this further. What we really want to do is sit down and see if we can negotiate out of this."

Pope Francis, in an April 29 in-flight press conference during his return from Egypt, said that regarding the escalating international tensions with North Korea, "the path is the path of negotiation, the path of diplomatic solutions."

"This world war in pieces of which I've been talking about for two years, more or less, it's in pieces, but the pieces have gotten bigger, they are concentrated, they are focused on points that are already hot," he said.

"Things are already hot, as the issue of missiles in North Korea has been there for more than a year, now it seems that the thing has gotten too hot."

Archbishop Bernardito Auza, Apostolic Nuncio and Permanent Observer of the Holy See to the United Nations, told UN News this summer "general disarmament -- that is a priority this year."

"There is no doubt that the Catholic Church, Pope Francis now in particular, is very much against not only the use but also the possession of nuclear weapons," he said.

Leaders for the U.S. and European bishops also called for nuclear disarmament in a July 6 statement "Nuclear Disarmament: Seeking Human Security." Bishop Oscar Cantu, chair of the U.S. bishops' international justice and peace committee, signed the statement along with Archbishop Jean-Claude Hollerich, president of the Conference of European Justice and Peace Commissions.

"For many, the horror of a potential nuclear war receded from consciousness with the end of the Cold War, but recent geopolitical developments remind us that our world remains in grave danger," the bishops stated.

"Even a limited nuclear exchange would have devastating consequences for people and the planet. Tragically, human error or miscalculation could lead to a humanitarian catastrophe."

While the United Nations conference to negotiate the multi-lateral and legally-binding Treaty on the Prohibition of Nuclear Weapons was wrapping up in July, the bishops said, the U.S. and "most European nations" were noticeably absent.

122 countries present voted in favor of the treaty, with one, the Netherlands, voting against it and Singapore abstaining, the UN reported.

"Nuclear states are making significant new investments to modernize nuclear arsenals. These costly programs will divert enormous resources from other pressing needs that build security, including achieving the Sustainable Development Goals," the bishops stated.

"The indiscriminate and disproportionate nature of nuclear weapons, compel the world to move beyond nuclear deterrence. We call upon the United States and European nations to work with other nations to map out a credible, verifiable and enforceable strategy for the total elimination of nuclear weapons."