Malteser International Americas aiding the impoverished in Colombia
---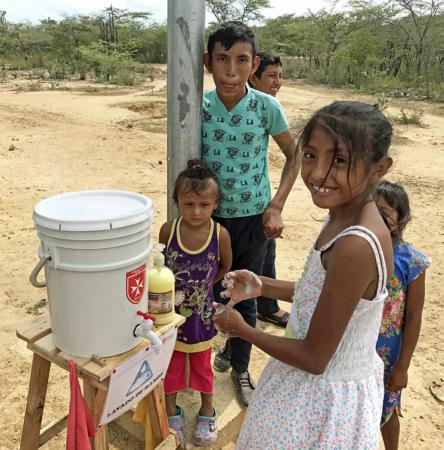 Colombian children gather at washing station. Pilot photo/courtesy Malteser International Americas
Help us expand our reach! Please share this article
BRAINTREE -- It was seeing a young woman suffering from cerebral palsy and lying on the floor in her mother's arms that particularly stood out for Ed Delaney. The Winchester-resident had been in Northern Colombia surveying the work of Malteser International Americas, of which he is a board member and its vice president.

"Her mother was trying to hold her, controlling her involuntary movements," Delaney told The Pilot, Aug. 9, about two weeks after returning from his trip. "It was very heart-wrenching."

The family was one of many in a community he visited that had been "hit hard" by Hurricane Matthew, the category-5 storm that devastated a number of South American and Caribbean countries last October.

Malteser International Americas identified families in the community most in need of support, such as families with disabled or special needs family members, and came to their aid. It was during a visit of the homes of these families that Delaney met the mother and daughter, who had been selected to receive a "sort of an extra room" added onto their house, a bathroom, and other amenities.

For the past four years, they have maintained a presence in Northern Colombia, "trying to create better futures, healthier futures, futures with opportunity for children and families in Colombia, specifically the indigenous populations hurt the most from displacement and malnourishment," said Jill Watson, the organization's communication manager.