Pete Frates honored by St. John's Prep
---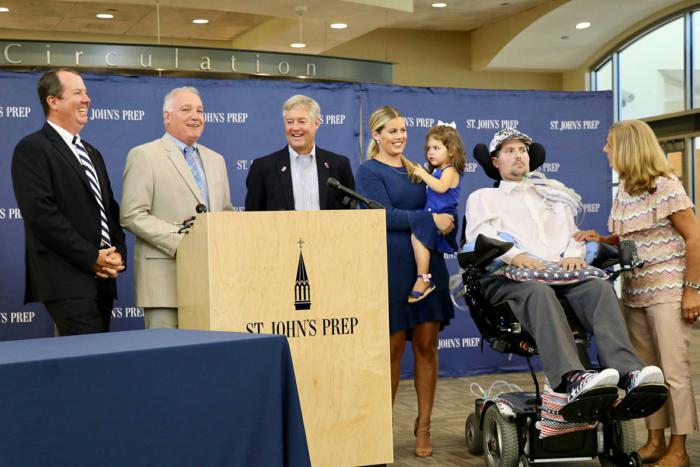 Pete Frates is joined by his family and officials of St. John's Prep in Danvers at an Aug. 30 press conference announcing that Frates has been named the school's distinguished alumnus for 2018. Photo courtesy St. John's Prep
Help us expand our reach! Please share this article
DANVERS -- Pete Frates was honored at St. John's Prep in Danvers, his alma mater, during a ceremony that celebrated him with two accompanying first-ever school accolades and saw him named the school's 2018 Distinguished Alumnus.

Headmaster Edward P. Hardiman revealed the trio of honors at a morning news conference held on campus on Aug. 30. The full celebration of Frates' scope of achievement will include the dedication of the Prep baseball diamond in his name and the retirement of his No. 3 jersey, the first retired number in the history of Eagles athletics.

"There are so many layers of heroism within Pete's story," said Hardiman. "He is an amazing role model of resilience, perseverance, inspiration and servant leadership. His family is a model of how people come together to support one another. Today is a testament to how much we believe that Pete exemplifies what we want our students to emulate in their own journey."

A three-sport standout in football, baseball, and hockey at St. John's Prep, Frates played four years in center field at Boston College and captained the BC Eagles as a college senior in 2007, graduating with a bachelor's degree in communications. In March 2012, at the age of 27, he was diagnosed with amyotrophic lateral sclerosis (ALS, also known as Lou Gehrig's disease).