Roxbury parish youth take first place in robotics competition
---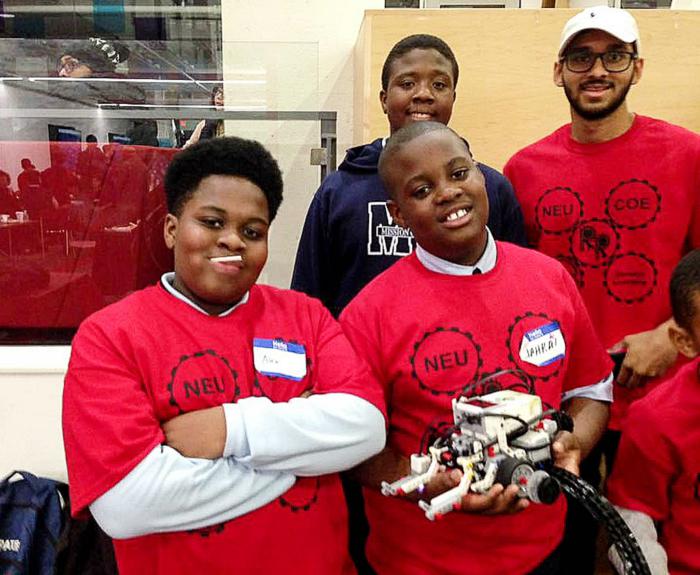 Youth from the St. Katharine Drexel Parish Sister Mary Hart Program pose with their winning LEGO robot following the competition in December. Pilot photo/courtesy St. Katharine Drexel Parish
Help us expand our reach! Please share this article
DORCHESTER -- Students at the after school Sister Mary Hart Program sponsored by St. Katharine Drexel Parish in Roxbury took first place in an annual citywide LEGO Robotics competition.

Held last month at Northeastern University's Curry Student Center, the competition was sponsored by the Timothy Smith Network and Roxbury Robotics, a group affiliated with Northeastern that provides after school robotics programs to youth in the Roxbury community.

The Timothy Smith Network (TSN), through partnerships with other organizations, provides technology education services to the greater Roxbury community, including the students at the Sister Mary Hart Program, which hosts a computer center that was donated by the network.

Over the past 10 weeks, six young participants from the after school program worked with engineering students from Northeastern University where they learned the ins and outs of LEGO Robotics before competing in the annual competition.

While it was their first year working with LEGO Robotics, the participants won first place in the competition, which saw them compete against other TSN and Roxbury Robotics partners.

"It was really exciting, and it was a very positive experience for our kids," said Julie McGovern, executive director of the Sister Mary Hart Program, speaking to The Pilot Dec. 18.

"They loved making the robots, but also having the competition and having the kids be able to see their handiwork... it was a great experience," she said.

Sponsored by St. Katharine Drexel Parish, the Sister Mary Hart Program offers youth a place to do homework, interact with each other, read, play games, and take advantage of the TSN computer lab after school.