Solar panels to be installed over Pastoral Center lots
---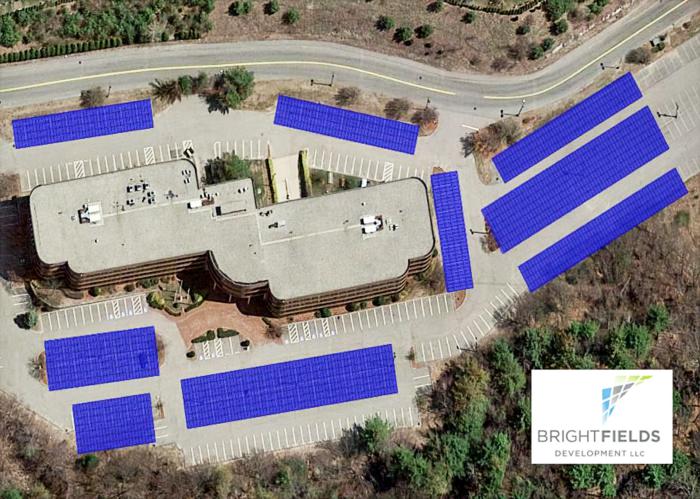 Shaded areas indicate the sites of future solar panel installations around the archdiocese's Pastoral Center in Braintree. Pilot photo/courtesy Brightfields Development
Help us expand our reach! Please share this article
BRAINTREE -- It's not being repaved or painted, but nevertheless, come summer, the parking lot of the Pastoral Center will be a little bit greener.

The Archdiocese of Boston's Braintree headquarters will soon be the home of several massive solar panels, currently being installed in the parking lot. Raised 14 feet in the air and supported by sturdy beams, the panels will not only generate clean energy, but will also serve as carports, providing cars with protection from the elements. Lights installed underneath the panels will help illuminate the lot, creating a safer and more visible space.

According to Deb Dillon, director of Property Management for the archdiocese, the panels will be coming partly as a response to Pope Francis' encyclical on the environment, 'Laudato Si', and partly as an additional source of revenue for the archdiocese.

"The power these will generate will lower the carbon footprint, and is the equivalent of the electricity of (about) 100 homes," explained Dillon.

That electricity will not be harnessed directly by the Pastoral Center, however. Power will instead be sent back into the grid, and the archdiocese will "get an income stream from a long-term lease."

The lease will work almost as rental income, said Dillon. The panels are being installed with no cost to the archdiocese, but will technically remain the property of the vendor. The archdiocese will serve as "sort of the landlord," with the vendor selling the energy back to the area's power company and giving the archdiocese "a rent payment every month."

With construction crews working on the panels section by section, areas of the Pastoral Center lot are currently closed off. Until the project is completed, Pastoral Center employees are being directed to park in more remote areas, reserving spaces closest to the build for visitors and guests.

Dillon expects the construction to be completed by the end of June, and the panels to become operational near the end of July, following an inspection process.

A ribbon-cutting ceremony with Cardinal Seán P. O'Malley and Braintree mayor Joseph Sullivan is also expected to happen in June or July. Dillon said there are also plans to add electric vehicle charging stations at some point in the future.