600 Catholic institutions declare support for Paris climate agreement
---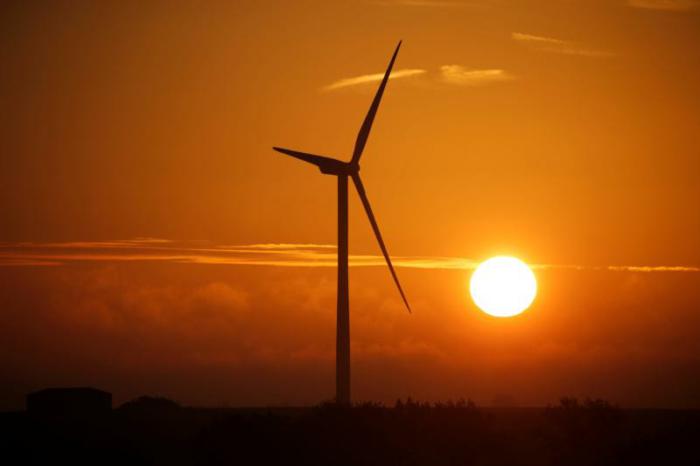 A power-generating windmill is pictured during sunrise in Escarmain, France, Aug. 9, 2017. (CNS photo/Pascal Rossignol, Reuters)
Help us expand our reach! Please share this article
WASHINGTON (CNS) -- Caring for creation goes hand-in-hand with the mission of helping retreat-goers connect with God at the Jesuit Retreat House in Parma, Ohio.

The center's tree-enshrouded grounds that filter the sound of nearby traffic in the middle of Cleveland's largest suburb offer a home for wildlife and a respite for those seeking a quiet place to pray and reflect about God in their life.

"The beauty of these grounds and the care of these grounds is our responsibility," Rick Krivanka, executive director at the retreat house, told Catholic News Service June 18, the third anniversary of the release of Pope Francis' encyclical on care of the earth, "Laudato Si', on Care for Our Common Home."

"I believe every act we take in terms of care for the earth, even countless acts that are never seen, make a difference," he said, in explaining the retreat house's support for the newly released Catholic Climate Declaration.

Made public on the encyclical's anniversary, the declaration serves as a moral call to action on the environment and urges President Donald Trump to return the United States to the Paris climate change agreement.

Trump announced June 1, 2017, that the U.S. would withdraw from the agreement, which had been signed by every nation. With the withdrawal, the U.S. is the only country not party to the agreement.

About 600 Catholic institutions had signed the declaration, said Dan Misleh, executive director of the Catholic Climate Covenant, which developed the statement and released it during a June 18 teleconference.

Archdioceses and dioceses, colleges and universities, schools, health care institutions and religious communities are among the organizations that had signed the declaration.

The effort stems from the We Are Still In effort that finds tribal leaders, government officials and organizations committing to address climate issues and following the Paris agreement despite the planned U.S. withdrawal.

"For the Catholic community we believe the global problem of climate change demands action, including global action. It is a shame that the United States is the only country to withdraw from global dialogue," Misleh said.

The declaration opens by saying the institutions signing it "declare that we are still in on actions that meet the climate goals outlines in the Paris agreement."

It describes climate change as a moral issue "because it compromises the future of our common home, threatens human life and human dignity and adds to the hardships already experienced by the poorest and most vulnerable people both at home and abroad."

The declaration also quotes "Laudato Si'" and the U.S. bishop's 2001 document "Global Climate Change: A Please for Dialogue, Prudence and the Common Good" in calling for the U.S. to return to the Paris agreement.

Bishop Richard E. Pates of Des Moines, Iowa, whose diocese was one of 37 to join the declaration, said during the teleconference that Pope Francis set the tone for action on climate change.

The bishop said his fellow bishops found Trump's decision "deeply disturbing."

"Our hope would be that he would reverse that, that the involvement of all the nations of the world can have a very significant impact, particular in carbon emissions," he said.

Individuals can join the institutions that signed the declaration in response to Pope Francis' call in his encyclical, Bishop Pates said, adding, "It's a critical question and all of us need to independently move if our government doesn't."

Other speakers on the teleconferences represented religious communities, higher education and health care institutions.

Noting that women religious have long addressed environmental issues and worked to protect creation, Holy Cross Sister Sharlet Wagner provided examples of actions by several religious communities that have turned to renewable energy sources to power their facilities and to engage fossil fuel companies to change their business models as shareholders.

"God's creation is in peril by our own actions and creation is a gift to safeguard and protect for future generations. Climate change presents a moral crisis and moral questions," said the president-elect of the Leadership Conference of Women Religious.

Jesuit Father Daniel Hendrickson, president of Creighton University, said the institution in Omaha, Nebraska, recognizes that climate change is a moral issue "that threatens human life and dignity, threatens the poor and damages our common home."

The school is one of 61 colleges and universities that signed the declaration.

"The U.S. Catholic community stands in solidarity with our bishops and the Holy Father in standing with the Paris agreement," Father Hendrickson said.

The health care sector recognizes the threat of climate change to human dignity, explained Rachelle Reyes Wenger, director of public policy and community advocacy for California-based Dignity Health Care.

She suggested that climate change be addressed as a public health issue because in many cases children, poor families, senior citizens, communities of color and people with chronic illnesses are the most negatively affected.

"The urgency to act cannot be ignored," she said.

- - -

Editor's Note: The full text of the Catholic Climate Declaration is online at https://www.tfaforms.com/4668211.

- - -

Follow Sadowski on Twitter: @DennisSadowski