Jewish convert and author speaks on life of St. Maximilian Kolbe
---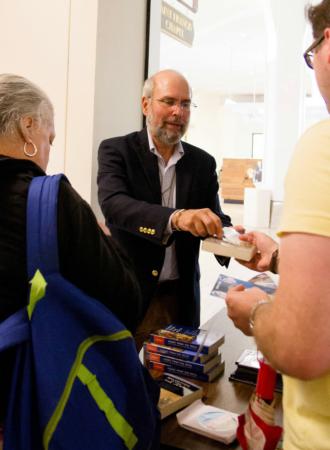 Roy Schoeman signs copies of his book 'Salvation is From the Jews' outside St. Francis Chapel in the Prudential Center Mall, Aug. 13. Pilot photo/Jacqueline Tetrault
Help us expand our reach! Please share this article
BOSTON -- On Aug. 13, the eve of St. Maximillian Kolbe's feast day, Roy Schoeman shared his conversion testimony and the story of St. Maximilian Kolbe with an audience at St. Francis Chapel in Boston's Prudential Center Mall.

Schoeman was born Jewish, the son of Holocaust refugees who met and married in the U.S. He converted to Catholicism as an adult. He is a pilgrimage leader, the author of the book "Salvation is From the Jews," and the host of the weekly radio call-in show "Jesus: The Promised Messiah of Judaism" on Radio Maria.

Schoeman began his talk by sharing the story of his conversion and the role the Virgin Mary played in his coming to know Christ.

Despite having received a thorough Jewish religious education, he lost his faith and became agnostic while attending the Massachusetts Institute of Technology. He went on to attend Harvard Business School and was invited to join their faculty. At age 29, while enjoying a prestigious position as a professor of marketing, Schoeman decided to actively pursue a relationship with God, he said.

Exactly one year later, Mary appeared to him and offered to answer his questions. One question Schoeman posed was what title Mary preferred for herself. She answered that she is the daughter of the Father, the mother of the Son, and the spouse of the Holy Spirit. Schoeman elaborated on this final, and less familiar, title for his audience.

"When the Holy Spirit overshadowed Mary and she conceived in her womb, that was, in a profound sense, the spousal act," Schoeman said. "In Judaism, in the Old Testament, the spousal act is actually what produces a marriage. ... From that moment on, they were spouses for all eternity."

From this experience Schoeman learned that Jesus is God and that graces come to us through Mary.

The topic of the Blessed Virgin segued into Schoeman's secondary topic, the life and death of St. Maximillian Kolbe, who had a deep devotion to Mary.

Schoeman cited a quote from Kolbe: "Mary's nature and person are totally distinct from the nature and person of the Holy Spirit. Still, their union is so inexpressible, yet so perfect, that the Holy Spirit only acts by the Immaculata, his spouse. This is why Mary is the mediatrix of all graces given by the Holy Spirit."

Though Schoeman has often shared his own testimony, this was his first time giving a talk about St. Maximilian Kolbe.

"I've talked a lot about his Mariology," but, he said, "I haven't talked about his story, his life."

Maximilian Kolbe was born in Poland in 1894. Schoeman described him as a "high-spirited" child. Kolbe's mother once asked rhetorically, "What is going to become of you?" Kolbe repeated the question before his family's and local church's statues of the Virgin Mary. She then appeared to him in a dream and showed him two crowns, a white crown symbolizing purity and a red crown symbolizing martyrdom. She asked which he would choose, and he answered that he would accept both.

As an adult Kolbe joined the Franciscans in 1910, earned doctorates in philosophy and theology, and was ordained a priest in 1918. He published a newspaper, Knight of the Immaculate, first in Poland and then in Japan where he did mission work. He established his own friary which became the largest monastery in Europe.

When the Nazis invaded Poland in 1939, Kolbe and his community helped to hide and care for 3,000 refugees, two-thirds of which were Jews. Kolbe criticized the Nazis through illegal print publications and radio broadcasts.

In 1941 Kolbe was arrested and sent to Auschwitz, where he volunteered to take the place of another prisoner sentenced to death by starvation. He kept up the spirits of his fellow prisoners as they waited to die. Kolbe was finally killed by lethal injection on Aug. 14, 1941.

In 1982 Pope John Paul II canonized Kolbe as a new kind of martyr, a Martyr of Charity, as opposed to a Martyr of Faith, because he died out of love for his neighbor rather than as a testament to his faith.

"John Paul II wanted to honor that with a new category of martyrdom," Schoeman explained.