Bishop Robert Reed Leads Vigil for 40 Days for Life
---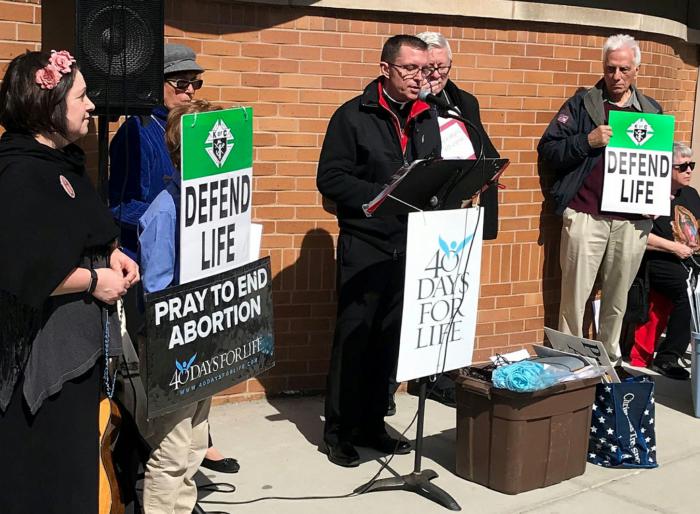 Bishop Robert Reed leads the prayer vigil outside the Planned Parenthood facility in Boston March 24. Courtesy photo
Help us expand our reach! Please share this article
On Sunday, March 24, Bishop Robert Reed joined a gathering of over 100 people on the sidewalk in front of Planned Parenthood on Commonwealth Ave. in Boston, to lead a Family Vigil for 40 Days for Life.

Bishop Reed led the group in reciting the rosary and Divine Mercy Chaplet. Among the other clergy present were Father George Szal from the Lourdes Center in Boston; seminarians from Pope St. John XXIII Seminary and St. John's Seminary, Brother Daniel and Brother Francis of the Franciscans of the Primitive Observance; Brother James Dvorak, SM; and Father Albert Stankard, who came with a busload of young people and parishioners from his former parish, St. Stephen's in Framingham.

Bishop Reed thanked everyone repeatedly for allowing him to be a part of the great hour of prayer and witness. He encouraged all to defend life from conception to natural death.

Bob Joyce and Heather Mansfield played guitar and led the music, concluding with Joyce's original pro-life theme song. It was a very special day.

40 Days for Life is a campaign of prayer and fasting, peaceful vigil outside abortion facilities, and community outreach to end abortion. Since it went national in 2007, over 15,000 babies have been confirmed saved because people were outside praying and offering help to women in crisis pregnancies. Campaigns are held twice a year in Boston, during Lent and again in the fall. This is the 13th consecutive campaign in Boston.

The Boston campaign has five organized events every week: Family Vigil Sundays at 2 p.m., Wednesday Rosary Vigil at 2 p.m., Praise and Worship Vigil Thursdays at 6 p.m., Friday Candlelight Vigil at 7 p.m., and Saturday Spanish Vigil at 10:30 a.m. All vigils are led by a priest, brother, seminarians, or minister. In addition, volunteers are invited to pray and give witness on the sidewalk from 7 a.m. to 7 p.m. every day from March 6 through April 14. For more information and to sign up for vigil hours, go to www.40daysforlife.com or contact Rita Russo at 781-762-4391 or rita.a.russo@gmail.com.