Statue vandalized at St. Mark's, Dorchester
---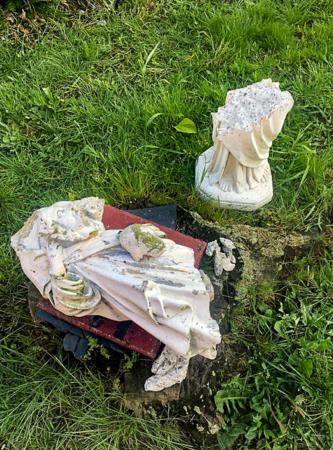 The shattered statue of the Sacred Heart of Jesus outside St. Mark Church in Dorchester. Pilot photo/courtesy Father Marcos Enrique
Help us expand our reach! Please share this article
DORCHESTER -- A statue of the Sacred Heart of Jesus on the grounds of St. Mark Church was vandalized over the weekend of June 1-2.

Father Anthony Cusack, a parochial vicar of the St. Mark-St. Ambrose Collaborative, said that after he celebrated the 8 a.m. Mass on June 2, a sacristan informed him that the statue had been found knocked down and broken into three large pieces.

"The hardest thing for me, personally, was seeing the reaction of the parishioners," Father Cusack told the Pilot on June 3. He said the "dismay" and "sadness" was visible in their faces.

"It's obviously an image of Christ, a symbol of everything that, as a priest, I'm giving my life to, so to see that kind of flagrant violence directed toward the Church is certainly unnerving," Father Cusack said.

The police came quickly, Father Cusack said, and are investigating the incident. He said nearby surveillance cameras may prove helpful to them.