Thought-provoking, inspiring almanac will delight Catholic garde
---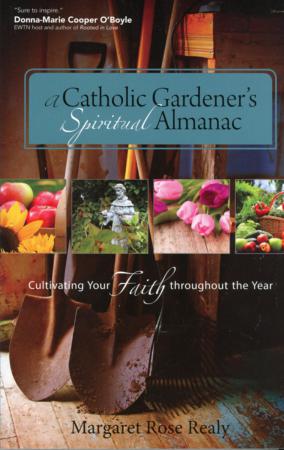 This is the cover of "A Catholic Gardener's Spiritual Almanac" by Margaret Rose Realy. The book is reviewed by Nancy L. Roberts. (CNS)
Help us expand our reach! Please share this article
"A Catholic Gardener's Spiritual Almanac" by Margaret Rose Realy. Ave Maria Press (Notre Dame, Indiana, 2015). 277 pp., $17.95.

Any Catholic who enjoys gardening will find much inspiration, both spiritual and practical, in this original compendium written by Margaret Rose Realy, a master gardener, retreat leader and Catholic blogger.

Each chapter highlights a particular month's religious themes, traditions, feasts and special saints and offers unique gardening lore.

For instance, the author presents June as a month of "transformation and new life," not only for plants but for Christians given the gift of Christ's love.

Thus during June we honor saints such as St. Boniface (also known as St. Winfrid), the patron of brewers, and St. Botulph of Ikenhoe, the patron of agricultural workers. And June 29 is the feast of the Solemnity of the Apostles, Sts. Peter and Paul; but did you know that the persecution and martyrdom of these two great saints are traditionally symbolized by the checkered fritillary, a "nodding, blood-red flower"? This is the kind of detail that makes "A Catholic Gardener's Spiritual Almanac" so engaging.