From Cardinal Seán's blog
---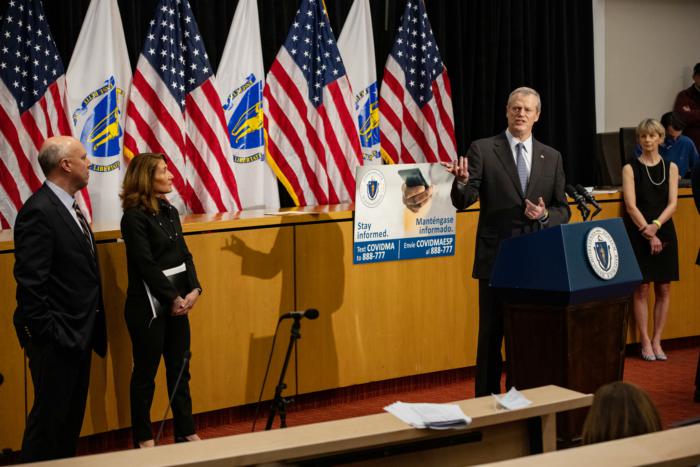 Following Gov. Charlie Baker's decision regarding the reopening of houses of worship, Cardinal O'Malley and his team held a webinar for over 1,500 participants on Tuesday, May 19, to discuss what needs to be done for churches to reopen. Pilot photo/CardinalSeansBlog.org
Help us expand our reach! Please share this article
On Sunday, May 17, we offered our Mass for the Sixth Sunday of Easter for healthcare workers -- doctors, nurses, support staff, those who do the cleaning and provide services -- all of those who are really putting their lives at risk to make sure everyone is cared for during this pandemic.

Representing the medical community and serving as lector at the Mass was Dr. John Barravecchio, the president of the Guild of St. Luke for Catholic physicians.

I was very struck when I learned recently that more than 500 physicians died in Wuhan, China, during the worst part of the epidemic there. While we are fortunate -- we haven't seen anything like that in our own country -- it just serves to underscore the potential danger and the heroism our healthcare workers have displayed in the service they are providing. So, we were very pleased to be able to offer that Mass for all of them.

Baccalaureate Mass

On Sunday, we also had a Baccalaureate Mass for all our high school graduates in the Archdiocese of Boston.

Our lectors, representing the class of 2020, were two graduating seniors from Cathedral High School: Fatima Caceres and Joausto Carvalho Teixeira.

We offered the Mass for the more than 3,000 graduating seniors at our Catholic high schools, as well as our parishioners who would have been graduating from public or other private high schools this spring. We realize that, due to the pandemic, they had to forgo many of the traditional ceremonies and celebrations that normally surround graduations. But we wanted to take this opportunity to pray for them and to express our congratulations for the accomplishment of graduating high school.

At the end of the Mass, our superintendent of schools, Thomas Carroll, made an address to the graduates, which can be found on my blog.

Knights of Columbus

On Sunday evening, the Massachusetts State Council Knights of Columbus held their annual convention online. I was very happy to deliver the opening prayer and offer some remarks.

Then, we heard an address by The Supreme Knight Carl Anderson. He spoke about the Knights' work during the 1918 influenza epidemic and the things they are doing now to be supportive of the Church and of the community during this current pandemic.

Reopening of houses of worship

On Monday, we received the long-awaited decision of Gov. Baker about the reopening of houses of worship in the Commonwealth.

We are very pleased that we are now able to celebrate the Eucharist in our churches once again and invite our people to return. Of course, there are many requirements and restrictions for the sake of safety. So, things will look very different the first time you return to Mass, but we ask everyone's patience and cooperation as we work to make our churches as safe as possible.

On Tuesday, we held a webinar for over 1,500 participants to discuss what will need to be done in order for our churches to reopen.

Some of our churches will be ready this Sunday, and many others will wait until Pentecost -- as we are doing at the Cathedral of the Holy Cross -- to make sure that we have everything in place.

I want to reiterate to the people of the archdiocese that they are still dispensed from the Mass obligation, and those who are elderly or otherwise at risk should refrain from coming to church. Please know that we will continue to broadcast Masses through CatholicTV and online in order to reach those who are unable to join us at Mass at this time.

We are so grateful to the committee that has worked so hard at preparing our reopening plan for the archdiocese. We have representatives from the Archdiocesan Pastoral Council, the Presbyteral Council and the deacon community along with members of our staff all working diligently with Father Paul Soper.