From Cardinal Seán's blog
---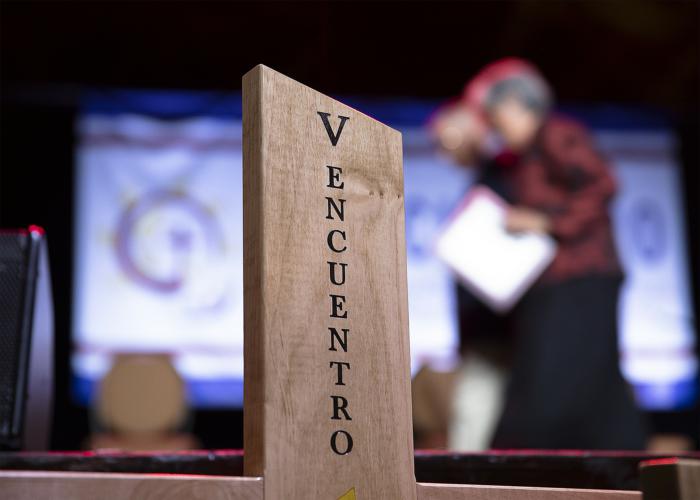 Cardinal O'Malley and the bishops involved in the V Encuentro of Hispanic/Latino Ministry met via Zoom to talk about the ongoing V Encuentro process. CNS photo/Tyler Orsburn
Help us expand our reach! Please share this article
Last Wednesday, I had a Zoom meeting with the bishops who were involved in the V Encuentro of Hispanic/ Latino Ministry. Our meeting was chaired by Bishop Arturo Cepeda of Detroit.

The V Encuentro process was more than just a one-time gathering but was really a four-year process, taking place between 2016 to 2020. From 2016 to 2018, we had local and regional gatherings to plan and prepare.

Then, we had the gathering in Texas, held more or less in the middle, in 2018. And finally, from 2019 to 2020, was the period to bring back experiences of the Encuentro gathering and continue to implement them and evaluate them on the local level. Obviously, the pandemic caused great disruptions in everyone's plans, and this meeting was to discuss plans to continue the Encuentro process despite the current challenges.

There will be a Virtual National Encuentro on Oct. 9-10. As part of this, every diocese will be invited to send twice the number of participants that attended the 2018 V Encuentro gathering in Texas.

During the meeting, we gave a report on what is being done here in our region, and we are also planning to hold a local virtual pilgrimage of our own.

Presbyteral Council meeting

Last Thursday, we had our last Presbyteral Council meeting of the summer. Like all such meetings these days, it was held via Zoom. While we miss our in-person gatherings, it certainly does make it easier for the council members to participate -- we always have a very good turnout!

This meeting was an opportunity for the priests to share some of the hopeful signs and challenges that we are seeing now that people are returning to Mass in the parishes. Of course, most places are still offering Mass online, so those who are still fearful about gathering can feel connected to the parish and part of the community.

We also had a meeting of the Archdiocesan College of Consultors in conjunction with the Presbyteral Council.

Ryan Lahiff

Last Friday, I attended the visitation for Ryan Lahiff, an outstanding young man called to the Lord early in life. Ryan was a graduate of Catholic Memorial High School, where, among many other activities, he was a member of the school's football team, and he was continuing his education at Sacred Heart University in Connecticut.

Ryan was very involved at his parish, St. Mary's in Dedham, was active in youth ministry there and was well known for his kindness to all people. As we prayed with Ryan's parents Paul and Kristyn, his brother Timothy, and other family members, we gave thanks for the gift of Ryan's life, entrusted him to eternal life with the Lord and asked his prayers for the consolation of all who knew and loved him. May he rest in peace.

Portuguese language web radio station

Also, I was so pleased that recently St. Tarcisius Parish in Framingham announced the establishment of a Portuguese language web radio station, www.ScalabriniRadio.net, as a service to the local Brazilian immigrant community.

We are very grateful to the pastor of St. Tarcisius, Father Volmar Scaravelli, and the Scalabrinian community for working with the parish to make this initiative possible. It is a great benefit to our Brazilian community here in the archdiocese. I was happy to record a greeting for them to use during their broadcasts, and we wish them great success.