Obituary: Father Lawrence Sullivan, former chaplain at Chelsea Soldiers' Home
---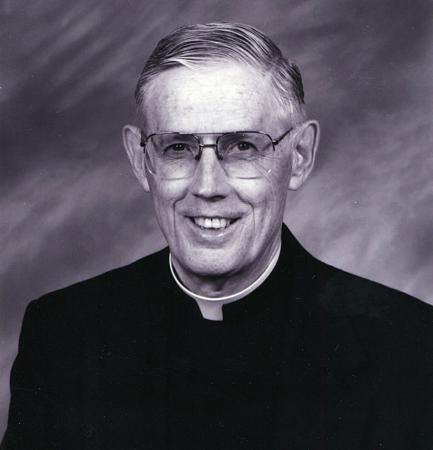 Father Lawrence Sullivan Pilot file photo
Help us expand our reach! Please share this article
One of the five children of the late Daniel and Margaret (Murphy) Sullivan, Father Lawrence F. Sullivan was born in Medford on Feb. 11, 1931. He was an alumnus of Malden Catholic High School and entered the archdiocesan seminaries following high school graduation. Archbishop Richard J. Cushing ordained him to the priesthood at Holy Cross Cathedral on Feb. 2, 1956.

Father Sullivan's first assignment was as an assistant at Sacred Heart Parish in Natick. During the next 23 years, 1957 to 1990, he would serve in archdiocesan parishes as an assistant, an associate or a parochial vicar: Immaculate Conception, Revere (1957-1965); St. Bridget, Maynard (1965-1967); St. Edward, Brockton (1967-1976); St. Jerome, Weymouth (1976-1986); and St. Mary of the Hills, Milton (1986-1990). All of these parishes, varying in population and ethnic groups, were busy places during Father Sullivan's respective assignments. All the parishes had an elementary school, save Maynard; and Immaculate in Revere had a high school -- a significant indication of the parochial population and activity.

Following his Milton assignment in 1990, he was named chaplain at Quigley Memorial Hospital and the Soldiers' Home in Chelsea. He served retired veterans of various branches of the military services for the next 11 years.

Bernard Cardinal Law granted him senior priest/retirement status on Aug. 1, 2001. Father Sullivan lived in his own residence, then at Regina Cleri Residence, Boston, before moving to Brooksby Village, Peabody. He died at his Peabody residence on Jan. 10, 2020.

North Regional Bishop Mark O'Connell was the principal celebrant of Father Sullivan's funeral Mass at St. Francis of Assisi, Medford, on Jan. 18. Father Paul Sullivan, the pastor of both St. Francis and St. Joseph, Medford, and a nephew of Father Sullivan was a concelebrant and homilist for the funeral Mass. Father Sullivan's immediate survivors are two siblings: a brother Kevin of Billerica, and his only sister, Mary Lee of Peabody. Following the funeral Mass, Father Sullivan was buried in St. Patrick Cemetery, Stoneham.