Obituary: Father Henry F. Doherty, former pastor in Hanover
---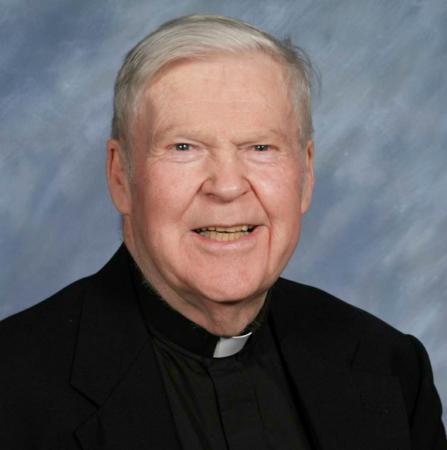 Father Henry F. Doherty Pilot file photo
Help us expand our reach! Please share this article
For almost a quarter century, he was pastor of St. Mary of the Sacred Heart Parish in Hanover, serving the parish between September 1, 1981, and September 1, 2004. On Aug. 1, 2020, Father Doherty died in Dennis, where he had resided with his sister Marie since his retirement; he was 90 years old.

A native of Watertown and born there on Aug. 12, 1929, he was raised in St. Theresa of the Child Jesus Parish. His parents, the late Henry and Mary (Kinchla) Doherty, were the parents of two other children: Marie residing in Dennis and Paul now of Natick. The family home was on School Street and literally abutted St. Theresa of the Child Jesus Church's property at their respective backyards. The Doherty family owned a funeral home in nearby Newton. Father Doherty was also a cousin of the late Msgr. John E. Kinchla, who died in 1983.

He was an alumnus of both Boston College High School, class of 1947 -- the high school then was still in Boston's South End; and of Boston College, class of 1951. He entered St. John Seminary and Archbishop Richard Cushing ordained him at Holy Cross Cathedral on Feb. 2, 1956.

During his priestly ministry and prior to his retirement, he served in five archdiocesan parishes. He was an assistant at St. Mary, Foxborough, (1956-1960); and then at St. Ambrose, Dorchester, (1960-1967). He was named an associate at St. Anne, Peabody (1967-1971); and then an associate at St. Agnes, Arlington, (1971-1981). Those four assignments were alternating between suburban parishes starting their growth and expansion in the 50s and 60s -- Foxborough and Peabody; and older urban parishes with their large parish plants, schools with bulging classrooms; and pastors known more as rulers.

When appointed to Hanover, itself just experiencing rapid expansion and growth, he arrived with much experience gained on the job, mostly by watching pastors "rule" and direct. He had a different but no less effective style also learned over his previous assignments, that of his presence and quiet guidance.

While at Hanover, he had to expand the church building and succeeded in accommodating it to greater attendance more than adequate even to today. With foresight, he also oversaw construction of a religious education building providing much needed classwork space for an expanded religious education program.

Cardinal Seán P. O'Malley, OFM Cap. was the principal celebrant of Father Doherty's Funeral Mass at St. Mary of the Sacred Heart, Hanover, on Aug. 7, 2020. Among the concelebrants were Father Christopher J. Hickey, present pastor in Hanover; and Father John A. Murray, senior priest of the archdiocese and fellow Watertown native, who also served as the homilist. Following the Funeral Mass, Father Doherty was buried in St. Patrick Cemetery, Watertown.