Obituary: Father Wallace E. Blackwood, former pastor in Waltham, Peabody, Essex, and Manchester by the Sea
---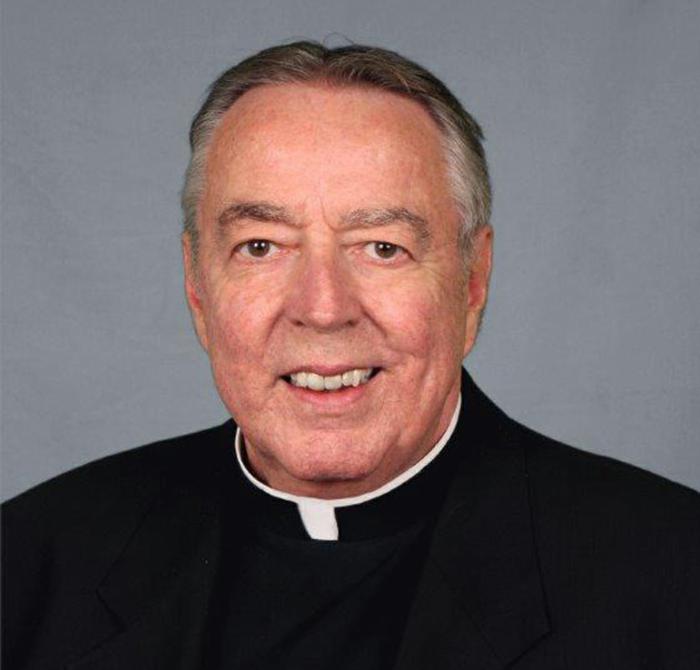 Father Wallace E. Blackwood Pilot file photo
Help us expand our reach! Please share this article
Father Wallace E. Blackwood, a native of Newton, born there on Nov. 29, 1939, died at Regina Cleri Residence on Nov. 1, 2020. He was one of the five children of the late Wallace and Elizabeth (Gibbons) Blackwood; his siblings were sisters Elizabeth and June Coffey, and brothers Paul and Douglas. In 2014, he penned an article for The Pilot and provided a few personal biographical details.

He grew up in a mixed-religion home, his mother being Catholic while his father, as he noted, was "a highly principled Christian gentleman." He attended Newton Public schools and religious education at St. Bernard Parish, Newton. On graduation from high school, he entered Boston College for his undergraduate degree. He was an alumnus of St. John Seminary, and Richard Cardinal Cushing ordained him to the priesthood at Holy Cross Cathedral on June 7, 1967.

His first assignment was as an assistant at St. Pius Fifth Parish, Lynn. He was moved to Waltham's St. Mary Parish, living in residence while pursuing graduate studies at Boston College. Between 1973 and 1988, he was assigned to various Archdiocesan Catholic Charities offices, including those in Boston and Brockton. During these years, he also lived in residence at different archdiocesan parishes or served as a part-time associate in the parish and part-time in the Catholic Charities office: St. Therese of Lisieux, Everett (1973-1978); Our Lady Comforter of the Afflicted, Waltham (1978-1981); Immaculate Conception, Stoughton (1982-1986); and St. Jerome, Arlington (1987-1988). He served briefly as administrator of St. Ann Parish, Dorchester.

Cardinal Bernard Law named him pastor of Our Lady Comforter of the Afflicted in October 1988, and, in 1996, the cardinal appointed him as pastor of St. Ann Parish in Peabody.

Archbishop Seán P. O'Malley named him pastor of Sacred Heart Parish in Manchester by the Sea and also at St. John the Baptist Parish in Essex on Oct. 27, 2003. He left pastoral administration and served for two years as parochial vicar at St. John the Evangelist, Swampscott, and St. Thomas Aquinas, Nahant, between 2011 and 2013.

On Oct. 1, 2013, he was granted senior priest retirement status and lived at Regina Cleri Residence, Boston; St. Patrick Manor, Framingham; and Marian Manor, South Boston.

Cardinal Seán P. O'Malley was to be the principal celebrant of Father Blackwood's funeral Mass at Our Lady Comforter of the Afflicted Church, Waltham, on Nov. 20. Father Blackwood's classmate and friend of over half a century, Father Joseph K. Fagan of Regina Cleri, Boston, was to be the homilist.

Father Blackwood's immediate survivors are his sister June Coffey, Millis, and brother, Paul of Coral Springs, Fla. Following the funeral Mass, Father Blackwood was buried in Newton Cemetery, Newton.