Cardinal presents Cheverus Awards for service
---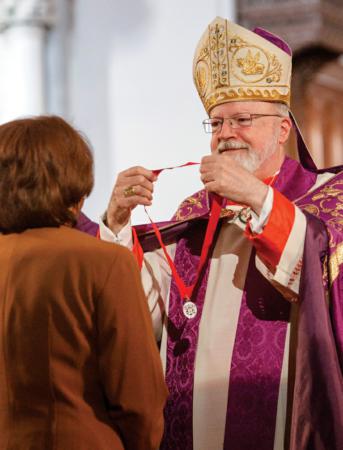 The cardinal smiles as he prepares to present a Cheverus Medal to one of the 127 recipients. Pilot photo/Gregory L. Tracy
Help us expand our reach! Please share this article
SOUTH END -- Keeping in mind Thanksgiving and the spirit of thankfulness, Cardinal Seán O'Malley said how thankful he is for those men and women receiving Cheverus Awards Medals, Nov. 29.

"We gather here... to express our thanks to God for these brothers and sisters of the household of the faith who have given such generous and joyful service to our Church. We are also here to publicly thank them for all of their hard work and dedication, which keeps our Archdiocese running," the cardinal said in his homily.

The cardinal bestowed medals upon 127 laypersons, deacons, and religious during a 3 p.m. vespers service of the first Sunday of Advent, which was held at the Cathedral of the Holy Cross.

Inaugurated in 2008 at the close the archdiocese's bicentennial year, the annual award ceremony recognizes local Catholics for their dedicated service to the Church.

"So many wonderful works are being done by our awardees today," said the cardinal before listing a number of organizations and groups the awardees participate in.