Cardinal, prominent Bostonians ask city to keep Yawkey Way name
---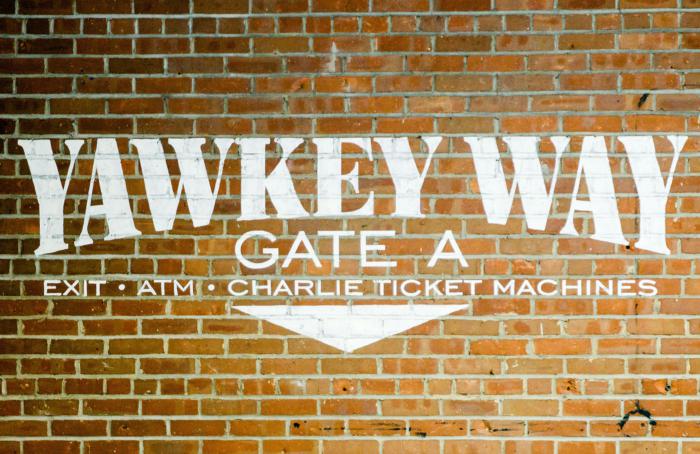 A sign painted on a wall inside Fenway Park points to Yawkey Way. The Red Sox organization and team owner John Henry have petitioned the city of Boston to remove the name of the former owner from the street that runs alongside the ballpark. Pilot photo/Gregory L. Tracy
Help us expand our reach! Please share this article
BOSTON -- Several prominent Bostonians, including Cardinal Seán P. O'Malley, are calling on Boston's Public Improvement Commission (PIC) to keep the name of Yawkey Way, as the Red Sox organization and team owner John Henry are petitioning to have the street renamed.

Henry and the Red Sox say the street, adjacent to Fenway Park, should be renamed because they say its namesake, longtime team owner Tom Yawkey, was racist. Henry has cited the fact that the Red Sox was the last major league team to field a black player, and some who were familiar with Yawkey over the years have cited examples of racist behavior.

The petition calls for the street to be renamed Jersey Street, the original name of the street before it was dubbed Yawkey Way in 1977, a year after Yawkey's death.

The commission heard input from both supporters and opponents of the petition at a March 15 meeting, which included the presentation of a letter signed by 12 Boston businessmen and community leaders. The signatories include Cardinal O'Malley, Emmanuel College President Sister Janet Eisner, Philanthropist Jack Connors, Businessman John Fish, and Catholic Charities of the Archdiocese of Boston President and CEO Debbie Rambo.

In the letter, which was submitted during the meeting by Rev. Ray Hammond, pastor of Bethel AME Church and a board member of the non-profit Yawkey Foundations, the signatories applaud Henry's "commitment to diversity and inclusion," but believe that it is "unfair to paint Tom Yawkey as racially divisive."

The letter speaks on the charitable works of the Yawkey Foundations noting that to date, "some $300 million has been given to hundreds of non-profits of all sizes in Boston alone" by the organization. Since its founding in 1976, it has become "one of Boston's most enduring and cherished charities," the letter reads.

Over the years, the Yawkey Foundations have given millions to help fund programs and services of the Archdiocese of Boston, Catholic Charities, and other charitable and community organizations, the letter notes.

"As direct beneficiaries of the Yawkey legacy, we are proud to include his name on the buildings, facilities and programs made possible by generous grants from the Yawkey Foundations," it reads.

"We believe it is not overstating things to say that removing his name from Fenway Park will forever taint his legacy, both as the historic owner of the Red Sox and throughout the city of Boston. It will force people to take sides over how to treat the Yawkey name and, we fear, create conflict rather than consensus over what we all need to do to make sure Boston is welcoming to people of color."

The PIC will hold a public hearing on the petition on March 29, during which time supporters and opponents will be able to make formal presentations. An official vote could be taken during that time.