Cardinal to bring relic of St. John Paul II to Salem shrine on Mercy Sunday
---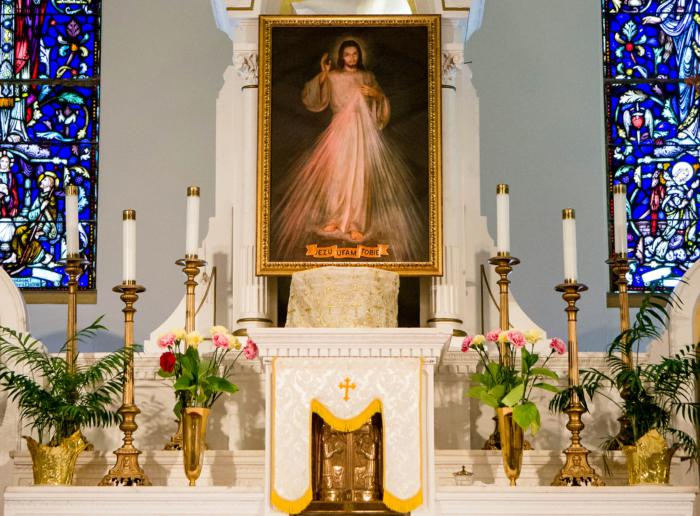 The altar of the new St. John Paul II Shrine of Divine Mercy in Salem is pictured last year. Cardinal O'Malley will deliver a relic of St. John Paul II's blood to the shrine on Divine Mercy Sunday, April 8. Pilot file photo/Mark Labbe
Help us expand our reach! Please share this article
SALEM -- St. John Paul II Shrine of Divine Mercy in Salem will soon be receiving a first-class relic of namesake. The relic of St. John Paul II, a vial of the former pope's blood, will be given to the shrine on April 8, Divine Mercy Sunday, during a Mass celebrated by Cardinal Seán P. O'Malley.

The blood, housed in an ornate reliquary, is the personal relic of Cardinal O'Malley, who received it after St. John Paul II was beautified in 2011.

Erected in August of last year, the shrine was born in part due to Salem's long history with dark magic and the occult, a history that brings countless people to the city each year on Halloween, and has contributed to opening of a satanic temple there.

The shrine, according to comments Bishop Mark O'Connell made to The Pilot soon after it was erected, is meant to be a space for Eucharistic adoration and worship of the Divine Mercy, a place "to combat and kind of fall-off of the evil" that is in Salem.

The devotion to Divine Mercy was actively followed and promoted by St. John Paul II during his time as pope from 1978 to 2005. He is responsible for designating Divine Mercy Sunday in 2000 following the canonization of the devotion's foundress, St. Faustina Kowalska.

During the April 8 Mass, the public will for the first time be able to venerate the relic of the former pope. After that time, the relic, as well as a relic of St. Faustina already housed in the shrine, will be available for daily adoration.

The Mass with Cardinal O'Malley will be held at noon, with Bishop Mark O'Connell concelebrating. Also expected to the present is Bishop Wieslaw Lechowicz, the delegate of the Polish Conference of Bishops to communities throughout the world.

The Mass will be followed by a reception at 1:30 p.m., a period of adoration at 2:30 p.m., a procession of the Stations of the Cross through the streets of Salem at 3 p.m., and a recitation of the chaplet of divine mercy at 3:45 p.m.